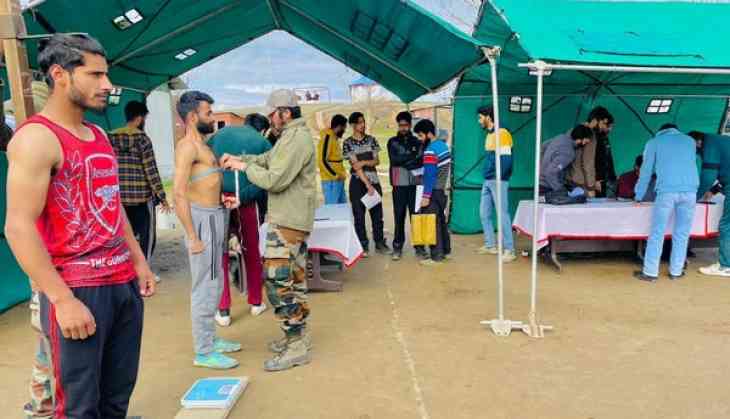 Agniveer Recruitment 2023
The Indian Army organised the Agniveer Recruitment 2023 registration drive for the youths of Kashmir. The registration drive was organised by Uplona Rashtriya Rifles under the aegis of the Haiderbaeg sector Kilo (k) Force.
As per the latest change in the Agniveer recruitment process, the candidates have to clear an online entrance examination (CEE) to proceed further for the physical fitness tests and then medical tests.
Also Read: RSMSSB Informatics Assistant Recruitment 2023: Deadline extended; here's how to apply
All unmarried eligible male and female candidates born between October 1, 2002, to April 1, 2006, with requisite educational qualifications can apply to become Agniveer. The new recruitment process will substantially help the youth.
Before the online entrance examination, there is a mandatory registration process that is needed to enrol the candidates into the scheme. The candidates are advised to register online at the website www.joinindianarmy.nic.in at the earliest.
In regards to empowering and employing the local youth and assisting the motivated youth to join the army, Uplona Rashtriya Rifles organized an Agniveer recruitment registration drive where informational, medical, and technical assistance was provided to the local youths for easy registration in the drive.
The session focused on documentation, medical aspects, physical tests, written exams, and aspects of the Agniveer scheme. The stepwise registration process was also explained. Conducting such events will assist the youth who faced technical issues and help them to move a step forward in achieving their dreams. This also prevents fraud and cyber errors that could happen when the candidates try to enroll themselves online.
The assistance reflects the Army's continuous support towards for youth to join the ranks thus fostering a healthy relationship supported by the dedication of the aspirants to contribute to nation-building.