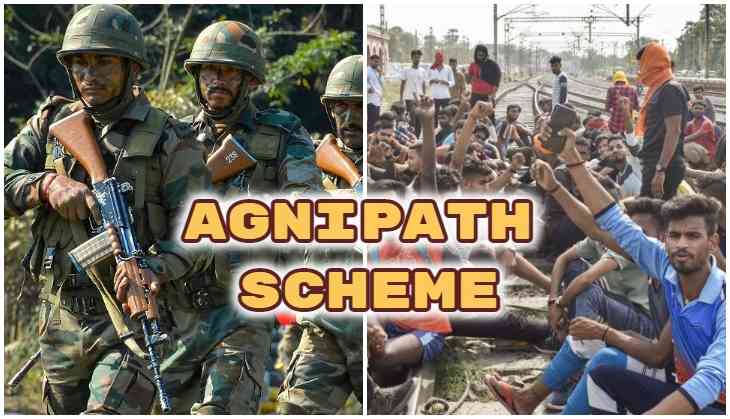 Agneepath Recruitment Scheme
Agneepath Scheme 2022: Amid massive protest against the newly launched recruitment scheme by the Indian govt- Agnipath, it is important to know the detailed information about the "transformative scheme" of the Indian Armed Forces.
Defence Minister Rajnath Singh launched Agnipath recruitment on June 14 and a day after it received a negative response from the various parts of the country.
According to the government, this recruitment scheme will raise employment opportunities by harnessing myriads of skills from various sectors.
However, aspirants are saying that this scheme will finish more career opportunities for them; therefore, they are demanding to scrap this scheme.
Also Read: Bihar: Protests against 'Agnipath' turn violent; houses of Deputy CM, state BJP chief attacked
However, official sources have asserted that no change is being done to the Army's regimental system under this new initiative.
Amid the agitation against the Agnipath scheme turned violent, check out some salient features of the recruitment scheme…
What is AGNIPATH scheme?
Through this scheme, candidates will get an opportunity for Indian youth to serve in the regular cadre of the Armed Forces (Army, Air Force, and Navy) for four years.
Soldiers who are recruited under this scheme will be known as Agniveers.
Agneepath Recruitment 2022: Age Limit Revised
After facing a severe backlash against the scheme, the Centre has revised the upper age limit for recruiting Agniveers.
Earlier, the government announced that men and women aspirants between 17.5 years and 21 years will be recruited under this scheme.
Also Read: UP: Mob vandalises train in Ballia during protest over Agnipath scheme
Issuing an official statement on the Agnipath scheme, Defence Ministry said that the one-time waiver in the upper age limit has been granted as no recruitment has been done in the last two years due to the coronavirus pandemic.
On June 16, the Centre revised the upper age limit for recruitments under Agnipath Scheme to 23 years from 21 years.
Qualification Required:
The minimum qualification required for the post of General Duty (GD) soldier is the 10th pass from a recognized board.
Agneepath Recruitment 2022: Benefits and Salary
Candidates who will be recruited via the Agnipath scheme will get the first-year package of Rs 4.76 lakh with an increase to Rs 6.92 lakh in the fourth year.
Agniveers will receive Rs 33,000 in the second year, Rs 36,500 in the third year, and Rs 40,000 in the fourth year. They will get Rs 11.71 lakh as Seva Nidhi Package after four years.
There is also a Rs 48 lakh non-contributory insurance cover. Aspirants must note that their 'Seva Nidhi' package will be exempted from Income Tax. Also, there will be no entitlement to gratuity and pensionary benefits.
After four years of service in the Armed Forces, Agniveers will also receive an Agniveer skill certificate, which will help them find post-release employment. Upon the completion of four years of service, Agniveers will be offered an opportunity to apply for permanent enrolment in the Armed Forces on the basis of the organizational requirement and policies.
Through this recently launched scheme, up to 25 percent of each specific batch of Agniveers will be recruited into a regular cadre of the Armed Forces.
-With ANI inputs
Also Read: AGNIPATH scheme protest: Revision of upper age limit for 'Agnipath' will benefit youth, says IAF chief