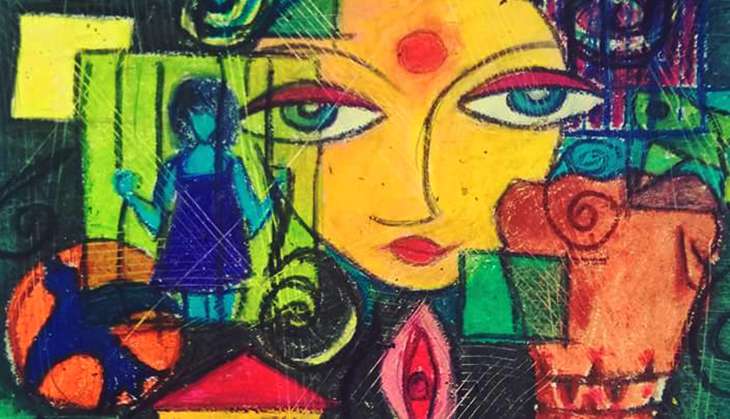 A little past 5.30 pm on Monday, nearly a hundred young women had gathered at the back gate of Lady Shri Ram (LSR) College in South Delhi's Lajpat Nagar.
Holding posters and shouting slogans of liberation set to the beat of protest drums, the young women were warming up for a protest march against the rising incidents of sexual harassment of students in the area. The protest was organised under the Pinjra Tod (roughly translated in English to "break the cage") campaign.
Most of them were students of LSR, with a few from other women's colleges such as Gargi College and Kamala Nehru College (KNC), who had come together to raise awareness among the people that the streets belong to women as much as to men.
The trigger for the protest march - that passed through Greater Kailash (N Block), Amar Colony main market, Moolchand and National Park to conclude at the LSR back gate again - was the oft-witnessed menace of men openly masturbating around women's colleges, usually in cars with the windows rolled down, while leering at the students who pass by.
DU women students protest against sexual harassment on 3 October (Praneta Jha)
The march was followed by the students sitting together and sharing their experiences, testimonies, stories and poetry.
"Din bhi hamaara, raat bhi hamaari, sadkein bhi hamari, chaurahe bhi hamaare" (the day is ours, the night is ours, the roads are ours, the city squares are ours) - went one of the several slogans that sought to assert women's right to claim the public space for themselves.
Incidents of harassment
Students said there was a reported increase in such cases of indecent exposure as well as harassment of women students on the roads not just around LSR but also around other nearby women's colleges such as Gargi and KNC.
"This disgusting phenomenon of men masturbating in cars around women's colleges has to do not just with the fetishisation of women's colleges, but the mentality and sense of entitlement men have that they own the public spaces while women's right to inhabit and enjoy that space is simply not acknowledged," said Srishty, a 3rd year student at LSR.
"Just day before yesterday, a classmate of mine witnessed a man openly masturbating while standing on this lane (at LSR's back gate)."
Students told Catch that such incidents were being reported by students almost every other day.
They said the college had arranged for police patrolling near the back gate since a few days ago while a police van was already permanently stationed near the front gate in the evenings, but the students were still being harassed on the roads. There have been cases of not just the masturbating men but also men on bikes following students as they go about on the streets.
Nimisha Aggarwal, a 1st year LSR student, told Catch about her personal experience of sexual harassment a week ago. "I was walking from college to the Moolchand metro station at around 4.30 pm. There was a man masturbating behind one of the pillars under the metro station, and he started following me. I got scared and started running but he also started running. There were cars and people passing by but nobody came to help me, Only when I began shouting very loudly did the man go away."
The surrounding area is also full of paying guest (PG) accommodations, where women students from not just DU's south campus colleges but also from Women's Polytechnic College and Rajkumari Amrit Kaur Institute of Nursing reside.
And the only way PGs respond to complaints of harassment is by fixing earlier curfews for the women residents, by "caging them inside four walls", to ensure their "safety," students said.
"A few days ago, there was an incident where a man entered a nearby girls' PG while masturbating," said Aditi Priya, a 3rd year LSR student.
The root cause
Aditi said it was important to highlight that the problem of sexual harassment of women by men was "not about any particular class of men, but about the mentality".
"There is this notion that it is mostly men from the working class, poor migrants to the city, etc. who pose a danger to the safety of women, while men from the middle and upper classes, educated men, are considered safer. However, here we see rich men sitting in their fancy cars masturbating and harassing women students. So this is not a class issue but about the patriarchal sexist mentality of men who do not respect women," she said.
Kudrat, a 3rd year LSR student, said, "We are offered workshops on self-defence, etc. There are cops around the college, and even a CCTV camera at the back gate. But that is not the solution. We have to make men understand that women have a right to be out on the streets at night without being harassed. And women too get scared of going out late at night, but we need to start owning the place, coming out on the streets in large numbers."
Sambhavi, another 3rd year LSR student, said, "All of this is because of patriarchy. It is not just about the problem faced by students of LSR or any other college. It has to do with the way men and women are raised in our society, what they are taught. It has to do with the public-private divide, that women belong to the private domestic space, while men rule the public space. Our aim is to change that mindset."
The Pinjra Tod campaign began as a collective effort by students to fight against gender-discriminatory rules in accommodation offered to women students in Delhi, rules that seek to restrict women's mobility citing issues of their safety and security. Pinjra Tod asserts the right of young women to non-discriminatory, safe and affordable accommodation everywhere in the city, whether in college hostels or in private PGs.