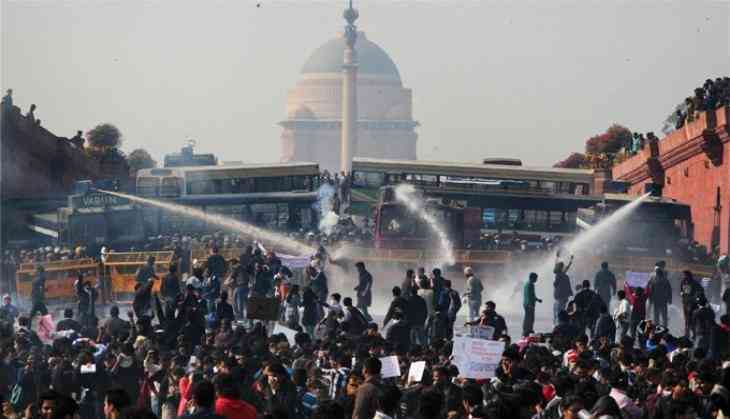 Protest against the gang rape at Raisina Hill, Delhi. (Photo: PTI)
The judgment in the December 2012 Jyoti Singh rape case was announced today, and with it came the news that the death sentence has been awarded to the four accused. The judgment isn't out in public yet, so we do not know the exact wording. But, simply by handing out the death penalty, the case has been elevated to the status of "rarest of rare."
However, one should be careful in such a reading. The pronouncement has little to do with the rarity of the crime, but, instead, everything to do with the rarity of the outrage that followed the news of the violence.
We know that sexual violence, even of the gravity that Jyoti faced, is not rare in this country. There is enough data and feminist work out there for those willing to do even the simplest of googling. In fact, mere days after the Jyoti Singh case, the news of sexual violence perpetrated on other women in different parts of the country had reached us. There was no outrage for them.
There was no outrage for the sexual violence in Badaun in 2014, or for the continuing sexual violence in Bastar, Kashmir, and the 'North East' of India. Heck, these cases enjoy such impunity that to question it is to suffer being tagged as 'anti-national.'
Just yesterday, the Bilkis Bano case was adjudged not to be the rarest of rare, despite the details of her case sending shivers down the spine. But that isn't to say I am advocating the death penalty for any of these cases. Instead, I am trying to show that what separates all these cases of sexual violence from the one that was deemed deserving of the death penalty today is simply the outrage one saw in the latter's aftermath.
It is this outrage that the judgment seeks to assuage by pronouncing death for the accused. However, under the guise of justice is only a bloodthirsty lion.
Revenge over reform
By rejecting most of the recommendations of the Justice Verma Committee Report that came out in the aftermath of the Jyoti Singh case, and in making the rape laws that followed, the judiciary was robbed of a comprehensive law that addressed sexual violence – from marital rape to those under the Armed Forces Special Powers Act (AFSPA).
In wanting to satiate the outrage then, and to present itself as democratic, the State had quickly and badly brought about an amendment in 2013. This need for efficiency and speed diluted any attempt for a transformative space in our legal system to respond to the complexities of the contemporary fields of sexuality, gender, and violence.
By undermining the import of the Justice Verma Committee Report in The Criminal Law (Amendment) Act, 2013, that pertained to sexual violence, while systematically keeping out marital rape and sexual violence under AFSPA, the state showed that it wasn't so much interested in addressing gendered and sexual violence, but rather in the protection of institutions that control women and maintain their sexual purity for circulation, like the family and the nation.
With this non-recognition, that is further solidified by the lack of public outrage in the cases of sexual violence within marriage or by security personnel, the law affirmed its commitment to the ideological work of caste, gender, and the nation. This is why the amendment was passed so swiftly in a Parliament that takes forever to bring out any truly progressive legislation (think about the languishing bill for reservation for women in Parliament).
It left the patriarchal structures in place and uncontested. This is why today's judgment can come at a time when the Indian State continues its worst repression in Kashmir and systematically closes down social exclusion and women studies centres in universities. There is no irony here.
Protecting Patriarchy
This swiftness also revealed how we, as a nation, are committed to a politics of rage than grief. We have no time to mourn. It is, honestly, boring and exhausting. Rage, on the other hand, makes us feel powerful. It makes us believe that we haven't lost. This is not new.
We had done this back in 1984, where instead of mourning the loss of a prime minister, we turned to anger, and directed that anger against a community that is still reeling and recovering. In celebrating the death penalty, we do this today, turning once again to rage.
We turn to the clean cuts of state instituted murder, rather than the messiness of accounting for the loss of Jyoti. Instead of looking at how patriarchy cost us Jyoti's life, we seek to redouble, rather quadruple, that loss through this death penalty. Again, leaving the patriarchal structures that enabled it uncontested.
To do justice to Jyoti's loss would mean to account for the ways in which patriarchy put her in a position of violability and some men in positions of power over her. To mourn would not limit us to bringing four men to justice, but allow us to bring patriarchy to the court. A death sentence to patriarchy, then, may be the only one I might support.
We do not do this also because we are afraid of our own undoing by loss. We are afraid of what we would look like without patriarchy. This fear that loss reveals to us leads us to rage. We are angry at knowing we could be different and so we act out this rage, externalising the violence that loss leaves on and in us.
Institutionalised murder
This rage also makes evident our instinct for murder. In Civilisation and its Discontents, Freud wrote that civilisation is based on the repression of our instincts – for murder and sexual depravity. The death penalty is the institutionalisation of instincts that are prohibited in civilisation.
The law makes space for that which it seeks to limit. Without this systematic displacement of our instinct, we would not live under the law, in civilisation, in human community. It is the same with war. Donald Trump knows.
It would bear well for all those who are committed to the end of the death penalty to account for the psychic work it does for us. Any critique must thus also think about our psychic attachments and desires. In this way, death penalties are fully reconcilable with democracy.
No humanity for the inhuman
To murder humans would look bad for any democracy. It is for this reason that those who are murdered must first be thrown out of the category of the human. When, after the attacks on the Twin Towers in New York on 11 September, 2001, the drones from the US indiscriminately killed civilians in Iraq, these deaths were termed 'collateral damage.'
'Terrorists' are shown no mercy. Once you are declared one, you can be subject to any form of torture and humiliation with impunity, as the Guantanamo Bay pictures revealed. It is the same when you are declared anti-national in this great, tolerant country of ours. You are deprived of any dignity that might check a public's outrage.
When we call those accused of rape 'barbarians,' we seek to evict them of humanness. The category of 'criminal' does the same. Once someone is recognised as a criminal, dignity does not stick.
This is why, even as our jails remain overcrowded and the conditions there much below anything we would identify as suitable for a bearable life, let alone a dignified one, jail reform is still not prioritised.
The death penalty today was only possible in the light of the inhumanity of those accused. An inhumanity pronounced upon them by the law and the public. In doing so, they are now robbed of human life even before the death penalty is actually executed.
Gender and sexual violence
Hearsay has it that when the Judgment was being read, there were calls for the castration of the accused. A cursory look at our newsfeed on Twitter and Facebook would reveal that this sentiment has a large belonging.
Of course, the call is part of the frame of dehumanisation outlined above. It also marks the fetishisation of our bodies in pyschic maps of the public. After all, we know that the violence that night on Jyoti's body was not limited to the violation by penises. It involved a series of phallic objects.
It is only in patriarchy that the assault by a penis is worse than that by a bottle. This is why rape laws offer stricter punishment than those on assault. The call to castration is symptomatic of this patriarchal fixation on gendered scripts on our bodies.
In this scheme, the penis is a highly valued object and thus its castration seems like a meaningful loss for those who demand it for the convicted. Both the law and the call to the castration reveal the ways in which rape actually scripts us and our bodies into gender.
For the woman, it makes a violation by a penis the worse kind of violation, even as a bottle may do more damage to the body. For the man, it scripts him into power. It is as if having a penis is all there is for you to become a rapist. Rape and laws against it then, actively make us into gendered beings.
It is not as if there were bodies before the law, but we are produced as gendered beings in and through these scripts. It is precisely for this reason that the rape of men remains unaccounted. In the rape script, both in the violence and how it's addressed in law, the woman is always already violable and the man, the violator.
A feminist reaction to sexual violence
A feminist response to rape, then, must not settle for this script that actively engenders us into patriarchy by making some women essentially and naturally rapeable and everyone else not (because the rape of, say, sex workers, or those cases outlined above are yet to be recognised as violation.), but should challenge this script.
Moreover, it asks that we not only resist the violence that happens to some women, but address the ways in which gender itself opens us up to certain forms of violence.
It is not as if violence is something that happens to some women, but to be a 'woman' in this patriarchy means to be in some relationship to violence.
Violence then is not external, but constitutive of our gendering. And it genders us into caste and the nation.
But first and foremost, we must think how our collective outrage at what happened with Jyoti contributed to this death sentence. It is not the first time when our well-intentioned actions have led to contrary effects.
Right Wing and conservative forces have often used our own rhetoric against us, say when Uma Bharti protested against beauty pageants arguing that they objectified women, or how Modi wants to save daughters in his Beti Bachao campaign.
Tonight, and perhaps for many more, we must mourn the blood on our hands.
(Vqueeram Aditya is an aspiring poet and waitress. He doesn't aspire to be good at either.)