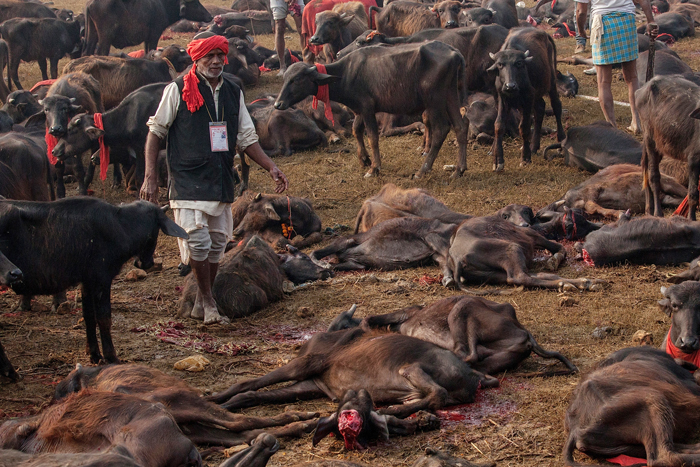 The Gadhimai temple trust in Nepal has asked its devotees to not bring any animals with them during the festival which is held every 5 years. Gadhimai festival is the world's biggest animal sacrifice festival and the tradition is about 300 years old.
"The Gadhimai Temple Trust hereby declares our formal decision to end animal sacrifice. With your help, we can ensure Gadhimai 2019 is free from bloodshed. Moreover, we can ensure Gadhimai 2019 is a momentous celebration of life," the chairman of the trust, Ram Chandra Shah, said in a statement.
"For generations, pilgrims have sacrificed animals to the Goddess Gadhimai, in the hope of a better life. For every life taken, our heart is heavy.
"The time has come to transform an old tradition. The time has come to replace killing and violence with peaceful worship and celebration," he added.
The decision has been welcomed by animal right activists who have been campaigning against the practice.
"This is a tremendous victory for compassion that will save the lives of countless animals. We commend the temple committee but acknowledge that a huge task lies ahead of us in educating the public so that they are fully aware.
"Animal sacrifice is a highly regressive practice and no nation in the modern world should entertain it," said Gauri Maulekhi, Humane Society International/India (HSI) Consultant and Trustee People for Animals who had approached the Supreme Court of India against the movement of animals from the country into Nepal for the festival.
"We applaud the temple committee's decision to end this mass slaughter of innocent animals and hope that they will continue to support us in our future endeavors for protecting animals in the country," said Manoj Gautam, a founding member of Animal Welfare Network Nepal (AWNN) and campaigner against the Gadhimai festival.
It is estimated that more than 500,000 buffalo, goats, chickens and other animals were decapitated at Gadhimai in 2009, but in 2014 the numbers had reduced significantly.
The Supreme Court of India had recently issued directions to states to set up mechanisms to prevent animals from being taken to Gadhimai in future and create awareness against animal sacrifice.
"Earlier this year, following the global outrage stemming from the Gadhimai massacre, the temple committee also decided not to sacrifice any animals during the harvest festival (Sankranti)," said the statement.
(with inputs from PTI)