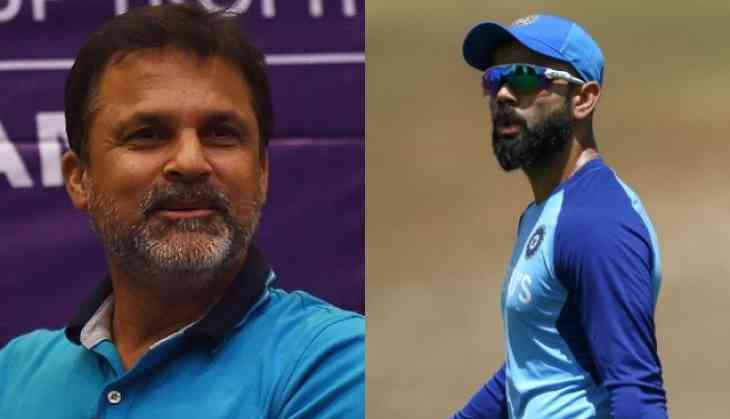 Former Pakistan wicket keeper Moin Khan has eulogised the Indian skipper Virat Kohli and regarded him as the best cricketer of the current generation. Moin Khan is of the opinion that Kohli will break several records in coming years and become a legend.
The 31-year-old is regarded as one of the finest batsmen of the current generation. The Indian skipper has shattered many records across all formats, having scored 26 Test centuries and 41 ODI hundreds thus far. The right hander is also the leading run scorer in T20Is across the world.
"I see Kohli as the only one among the current generation of batsman who is destined to break many records as well as become a legend," Moin Khan told GTV News channel.
The former Pakistani cricketer also credited MS Dhoni, for changing the face of Indian cricket. He claimed that Dhoni added glory to the legacy which Sourav Ganguly left when he retired.
"I credit Mahindra Singh Dhoni for changing the face of Indian cricket. He really turned them around and saw through what Sourav Ganguly had started. That is why India is producing so many quality players, and they have strong bench strength," he added.
Moin Khan, who ended his career in the 2004 home series against India, expressed his disappointment with the current Pakistani side. He claimed, the quality of players had gone down compared to the 1080s and 90s era.
"I look at the Pakistan team, and we lack match-winners or game changers like we had in the 80s or 90s. When I was in the team, they were so many match-winners, and we all knew someone would do it that day. That was class," Moin Khan added further.
Moin Khan also criticized the current Pakistan head coach and chief selector Misbah-ul-Haq for taking up dual responsibility.
"In our cricket culture, which is different to other nations, this experiment is not working. Imagine the state of mind of a player in the dressing room. If he shares something about his game or personal life with the head coach, which players do, he must think twice about it because the head coach is also the chief selector," Khan said.
The former Pakistan cricketer played 69 Tests and 219 ODIs for the national side, the 48-year-old amassed 2,741 runs in Test format, while in limited over cricket, he cumulated 3,266 runs.
Also Read: Ravindra Jadeja creates record, surpasses MS Dhoni, Kapil Dev's mark in illustrious list
Also Read: Tim Southee becomes leading bowler to dismiss Virat Kohli for most number of times across formats