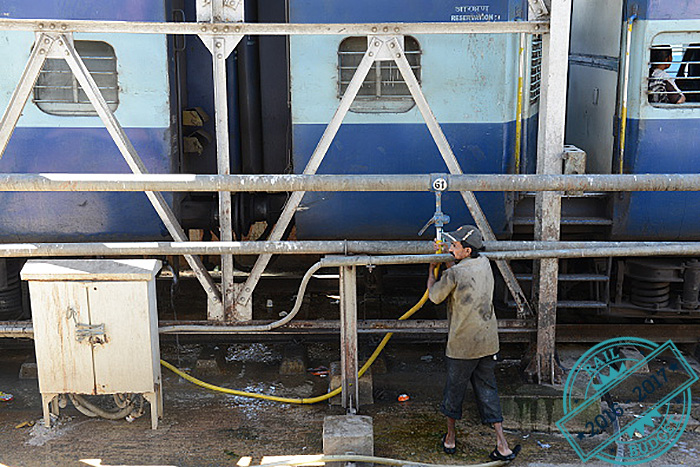 The promises
Railway Minister Suresh Prabhu announced some passenger-friendly amenities in the 2016 Rail Budget
Passengers can get coaches cleaned by just sending an SMS
The problem
Most of the amenities announced will require the govt to hire private sector help
However, without much of a profit margin, there will be no incentive for private players to get the job done
More in the story
How the Debroy Committee recommendations fit into the govt\'s plan
The impact of low wages on the plan
In his second Railway Budget speech on Thursday, 25 February, Suresh Prabhu announced various passenger-friendly amenities, like a 24x7 helpline and a system where one can simply send an SMS if one needs the coach to be cleaned.
It seems quite utopian, but will introducing digital or mobile solutions or labeling 'coolie' to 'sahayak' help solve real world issues?
Porters across the country have already stated that Prabhu's gesture won't help them in any way, though providing soft skills and training to them may well be a positive development.
But it's not just the discontent of the porters that the Railway Minister has to worry about. The way things work in the present, there is substantial reason to believe that the initiatives announced may include many empty promises.
Going the private sector route
The issue, as always, lies in the execution of plans. Be it your favourite cuisine being provided on demand, Wi-Fi, pizza delivery or cleaning coaches - everything is expected to be handled by private players, who would only be interested if there's a good profit margin.
But here's the catch, as All India Railwaymen's Association vice-president CA Rajasridhar explains.
"The government does not seem to be clear on how it plans to execute its Budget promises. On one hand, it plans to support the Bibek Debroy Committee's recommendations on a massive increase in privatisation of various services. On the other, it wants to increase employees that work directly with the Railways," he says.
The Debroy Committee report relies heavily on privatisation and 'joint ventures' for the maintenance of tracks and trains.
Read: How not to crash the Indian Railways. The Bibek Debroy Report explained
Trade unions have, time and again, criticised this move. Here's a reality check: cleaning stations and coaches and providing adequate water supply are all handled by private agencies picked by the government.
"Almost 80% of all the cleaning and maintenance of trains is handled by private agencies," says Raman K Sharma, secretary general, Indian Railways Promotee Officers' Federation, a labour union.
Rajasridhar explains that the agencies handling these key tasks have no obligation to fulfil these tasks. Many trains have reported having no water supply, leaving passengers at extreme inconvenience, if not utter distress.
As far as the dream of getting a coach cleaned on demand is concerned, here's the problem: private staff are present only at select railway stations, and are not on-board staff, which would make it impossible to clean the coach with just an SMS.
The question of wages
The other issue is inadequate wages. For example, around 150 contracted employees, mostly women, work at Chennai Central railway station and engage in cleaning railway tracks, coaches and toilets that halt at the station. The pay ranges from Rs 5,000-6,000 per month, nowhere near what they would earn had they been hired directly by the government.
The government clearly seems to be in trouble with respect to employing more people. The Indian Railways has always been one of the largest employers in the world, but in the last decade, the number has seen a drastic reduction.
The wage bill, on the other hand, accounted for 35% of the government's salary payments in 2013, the highest of any ministry.
Also read: Pizza and KFC chicken is fine, but what about security and modernisation of the railways?
The bill is also set to inflate with the implementation of the Seventh Pay Commission, which would hike total salaries by Rs 11,350 crore and Rs 9,500 crore more in pensions.
Railway employees would get an additional pension of Rs 7,600 crore in allowances for railway employees.
In such a scenario, if Prabhu believes hiring private agencies can ensure clean stations and coaches, that is just being hopeful.
Edited by Shreyas Sharma
More in Catch:
Art of Travel: these stunning vintage posters bring back the romance of the railways
Opposition exorcises Smriti Irani's sedition demons in Rajya Sabha
BJP's "Hindu migrant vs Muslim migrant" policy lands it in trouble in Assam
World's most 'sustainable' country Sweden, now wants to go carbon-neutral