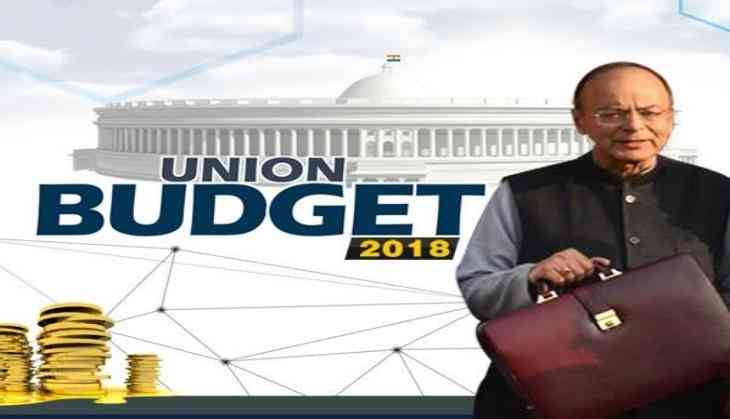 As the presentation of the Union Budget 2018-19 culminates, here are some key takeaways from this year's allocation:
•Minimum support price for kharif crops will now be 1.5 times the production cost
•The government plans to set up an agricultural market fund with corpus of Rs 2,000 crore
•Government proposes to launch Operation Green for which a sum of Rs 500 crore will be allocated
•In the next 2 years, additional 2 crore toilets will be built under the Swachh Bharat Mission
•The government announced an unprecedented Rs 5 lakh medical insurance cover per year for 10 crore families across the country
•The government will contribute 12 percent EPF in wages of new employees in all sectors
•The government intends to multiply India's 124 airports by five times
•SEBI will consider mandating large corporates to meet 25 percent of debt needs from the market
•For senior citizens, exemption of interest income on bank deposits raised to Rs 50,000
•For 2018-19, the disinvestment target is set at Rs 80,000 crore
•Proposed spending on rural infra is Rs 14.34 lakh crore
•Custom duty on mobile phones increased from 15 to 20 percent
•Jaitley proposed to revise the emoluments of President to Rs 5 lakh per month, Rs 4 lakh for Vice President, Rs 3.5 lakh for Governor and inflation-linked revision of salary of MPs.
•Revised fiscal deficit for 2017-18 is at Rs 5.95 lakh crore or 3.5 percent of GDP. Fiscal deficit at 3.3 percent of GDP for 2018-19
•Corporate tax for 2018-19 has been cut to 25 percent for companies with revenue up to Rs 250 crore
•The government decided to allow a standard deduction of Rs 40,000 for salaried taxpayers
•Government proposes to increase the target of providing free LPG connections to 8 crore to poor women
•Capital gains exceeding Rs 1 lakh to be taxed 10 percent without indexation benefit with certain cautions
•Equity Oriented Mutual Funds will now face a dividend distribution tax of 10 percent.
Also Read: Budget 2018 LIVE Updates: Bad news for middle class; No change in income tax slabs
--ANI