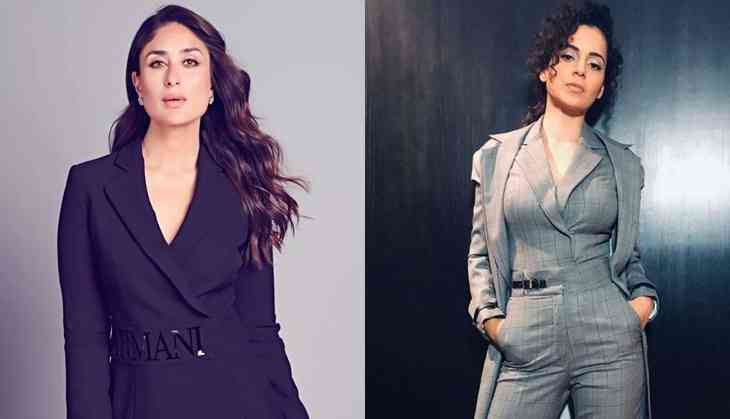 Kangana Ranaut has been on a slamming spree ever since Sushant Singh Rajput died of suicide on 14th June. Earlier, actress slammed Karan Johar for giving rise to nepotism in the film industry, not just this she also slammed Alia Bhatt for her film Gully Boy and being a 'nepo kid'.
Now, Manikarnika actress has slammed Kareena Kapoor Khan for her comment on the ongoing debate "nepotism". Bebo stated that she could not have survived in the film industry for more than two decades on the basis of nepotism alone. Replying on the same Kangana's team took to her Twitter handle and dropped a series of tweets.
Also Read: Sushant Singh Rajput's family makes another allegation against Rhea Chakraborty
Her tweet read, "Yes Kareena ji, audience has made you all rich and famous but they didn't know after getting undeserving success you all will turn Bollywood in to Bullywood"
Kangana's team further listed a few questions seeking the answer on the treatment both Kangana and Sushant received from the film industry.
Here, check out the tweet:

6) Why Kangana and Sushant isolated in the industry never called for any parties? No one wishes them on their film releases birthdays or successes?..(3/3)

— Team Kangana Ranaut (@KanganaTeam) August 4, 2020
Not just this actress' team also warned the 'nepo kids' to stop trying to derail the topic. She wrote that they don't have a problem with their privileges rather the way they treat outsiders.
Also Read: Sushant Singh Rajput death: Ambulance driver tells details about Sushant's corpse
Warning to all dumb nepo kids, don't try and derail the topic, we don't have any problem with your privileges, our problem is the way you treat us, Sushant has been murdered by your bullying and ganging up, he complained about film industry suffocating him and...(1/2)

— Team Kangana Ranaut (@KanganaTeam) August 4, 2020
Warning to all dumb nepo kids, don't try and derail the topic, we don't have any problem with your privileges, our problem is the way you treat us, Sushant has been murdered by your bullying and ganging up, he complained about film industry suffocating him and...(1/2)

— Team Kangana Ranaut (@KanganaTeam) August 4, 2020
She further added, "Sushant has been murdered by your bullying and ganging up, he complained about film industry suffocating him and wanted to quit he also cried that you all called him a rapist and never gave him credit for his work."
Also Read: 'Woh bhai nahi jise gale laga saku': Sushant Singh Rajput's sister shares emotional poem on Raksha Bandhan