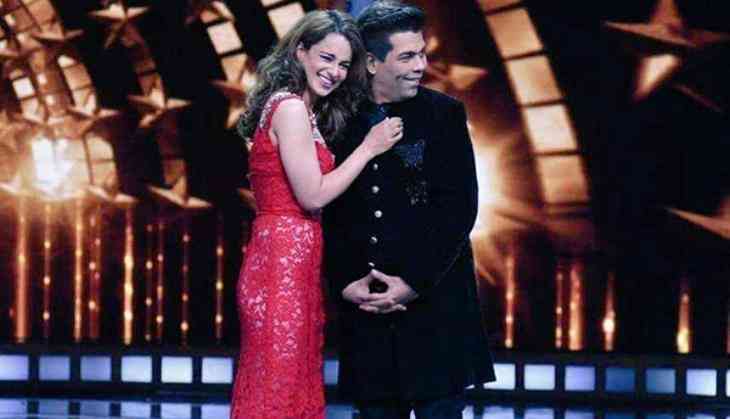 The spat between filmmaker Karan Johar and actress Kangana Ranaut and from the episode of Koffee With Karan, social media always has taken the statements of both on a different level. Kangana on the show Koffee With Karan stated Karan Johar as a flag bearer of Nepotism. Now when #MeToo campaign has hit the film industry once again Kangana Ranaut has taken Karan Johar as her target and said why Karan is quite at this campaign.
First Kangana Ranaut targetted Vikas Bahl for sexual misconduct and now he has targetted Karan Johar for not speaking on this issue. Now in the latest development, Kangana targetted Karan Johar for not coming out on #MeToo campaign and says while other Bollywood actors like Priyanka Chopra, Akshay Kumar, Sonam Kapoor, Riteish Deshmukh, Twinkle Khanna, Farhan Akhtar and others have voiced in the support of victims.
The season opener of #KoffeeWithKaran will be full of fun, games and girl power. Watch @deepikapadukone @aliaa08 up-close & candid 21st Oct, Sunday at 9 PM on @StarWorldIndia https://t.co/4XvvB1iP2Z

— Karan Johar (@karanjohar) October 13, 2018
According to India Today, Kangana Ranaut said, "I have been speaking about it every day. But, now, more significantly, more people need to come out and talk about it. It's just not one person to talk about it. It's important for people like... Where are people like Karan Johar, Shabana Azmi, they should also come out and talk."
"When the Industry is going through such a shift why are these A-list actresses not sharing their stories? I am the only one, you guys come every day. I don't know who calls you but honestly, I have spoken a lot, it's not for one person to talk." said Kangana Ranaut.
Kangana said Karan Johar has time to speak on airport looks gym looks and others why he is not responding on this campaign. She added, "Karan Johar has views about gym looks and airport looks. He tweets ten times about it. What about this? This is their identity. This is their bread and butter. When the film industry is going through such an important shift, where are they?"
On the work front, Kangana Ranaut just has completed the shooting of Manikarnika: The Queen of Jhansi and the film is slated to release on 25th January 2018.
Also Read - #MeToo Movement Row: Sacred Games actor Saif Ali Khan still angry for being harassed 25 years ago; here's what he said