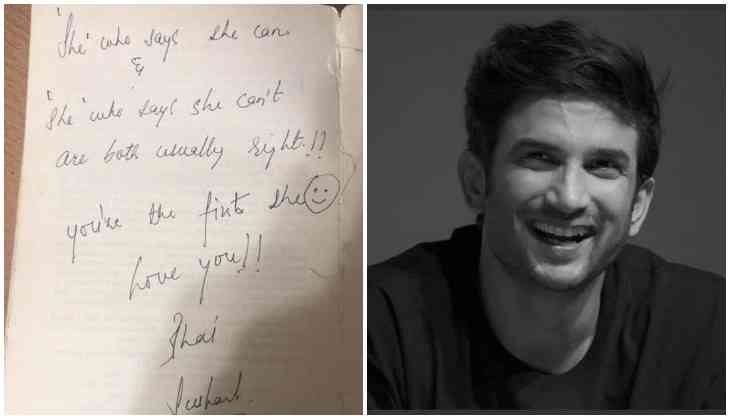 Sushant Singh Rajput's sister Shweta pens down emotional note
Sushant Singh Rajput's death has left a void in everyone's heart even after four days of his death people are not able to stop pondering about his demise. However, her sister Shweta Tiwari is keeping a brave face in front and keeping actor's fans update.
Recently, the actor's sister took to her Facebook and told fans that they have reached their home Patna dropped a heartfelt note for her baby brother. She shared the handwritten note along with actor's monochrome image, she wrote, "Mera baby, mera Babu mera Bachcha is not physically present with us anymore and it is ok... I know u were in a lot of pain and I know u were a fighter and u were bravely fighting it. Sorry mera Sona... sorry for all the pain u had to go through...if I could I would hav taken all ur pain and given all my happiness to u."
Also Read: Sushant Singh Rajput Death: Kangana Ranaut lashes out at Mahesh Bhatt; reveals shocking details about late actor
She further talked about the actor's twinkling eyes and his innocent smile and wrote that his eyes taught the world to dream while his smile revealed the purity of his heart. "You will always be loved mera Baby and so so much more.... Wherever you are mera baby stay happy....stay fulfilled and know that everyone loved, loves u and will always love you unconditionally."
She concluded saying, "All my dear ones.... I know it is testing time... but whenever there is choice.... choose love above hatred, choose kindness and compassion above anger and resentment choose selflessness above selfishness and forgive.... forgive yourself, forgive others and forgive everyone. Everybody is fighting their own battles.... be compassionate to yourself and be compassionate to others and everyone. Let not ur heart close ever, at any cost!!!! #Sushantsinghrajput."
Also Read: Sushant Singh Rajput Demise: Ram Gopal Varma supports 'nepotism'; calls Karan Johar bigger 'victim'
Please Note: We have not posted Shweta's post as she has deleted it from her page
Meanwhile, the late actor's family has reached Patna safely and today they will immerse his ashes. Taking to Facebook, Shweta thanked everyone for praying and asked him to give a happy farewell to his brother by keeping his fond memories in their hearts.
Also Read: Sushant Singh Rajput Demise: Case filed against Salman Khan, Ekta Kapoor, Karan Johar, Sanjay Leela Bhansali in Bihar