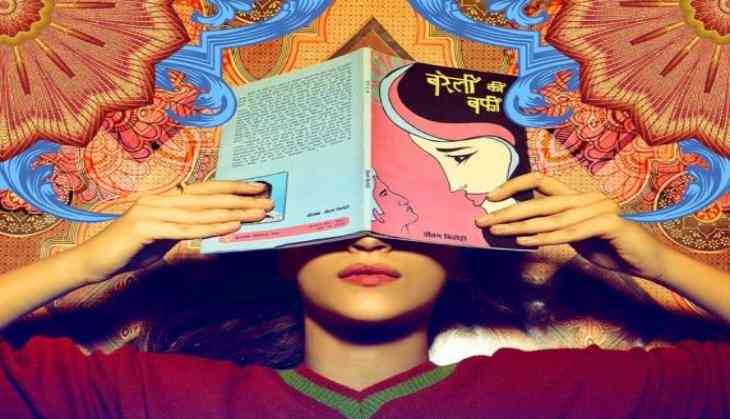 Bollywood was introduced to fresh content in 2011 with 'Tanu weds Manu', a breezy film set against a rural backdrop with the actress taking charge.
Nearly six years later, 'Bareilly ki Barfi' brings back the 'Tanu weds Manu' memories.
Here are 8 reasons why Kriti Sanon's 'Bareilly Ki Barfi' reminisces Kangana Ranaut's 'Tanu weds Manu':
1) The title of both the films: Both the film's title involved its female lead. 'Tanu Weds Manu' had its female lead actress characters name in the title and with 'Bareilly Ki Barfi' Kriti's onscreen name Bitti is used as a synonym to 'Barfi'.
2) Unabashed female characters: Kriti Sanon and Kangana Ranaut both play the character of a modern free spirited woman. Both are bold, rebel, vibrant, strong headed. Kriti and Kangana both are seen smoking cigarettes and drinking liquor and dance to their hearts
3) Small town: 'Bareilly Ki Barfi' and 'Tanu Weds Manu' are deeply rooted in the interiors of the country. 'Bareilly Ki Barfi' is set in the small town of Bareilly and similarly, 'Tanu Weds Manu' is set in Kanpur, both falling in the state of Uttar Pradesh.
4) Breaking marriage stereotypes: While small towns tend to be more inclined towards arrange marriages, the films ' Tanu weds Manu' and 'Bareilly Ki Barfi' showcase liberal views by giving the lead actresses the freedom to choose their own bridegrooms.
5) Critically acclaimed male leads: 'Tanu Weds Manu' gave us an interesting portrayal of Manu by R Madhavan, 'Bareilly Ki Barfi' gives us two power packed performers in Rajkummar Rao and Ayushmann Khurrana. The films are backed by critically acclaimed male actors.
6) Quirky songs: Both the films have given us chartbuster songs and good music. 'Sadi Gali' and 'Yun Hi' from 'Tanu Weds Manu' are still a favourite of listeners while 'Bareilly Ki Barfi' has given the listeners amazing songs like 'Sweety Tera Drama', 'Twist Kamariya', and 'Nazm Nazm' which have been loved by one and all.
7) Directors: The directors of both the films Anand L Rai and Ashwiny Iyer Tiwari are known to make rooted films, which have been critically acclaimed and loved by the audiences.
8) Budget: 'Bareilly Ki Barfi' and 'Tanu Weds Manu' are both made on modest budget.
While 'Tanu Weds Manu' received an exceptional response from the audience for its content, 'BKB' is striking the right chords with the masses for its deep rooted appeal. We just can't wait for the film's release to watch the hit formula recreated with writers Nitesh Tiwari & Shreyas Jain storyline.
'Bareilly Ki Barfi' features Kriti Sanon alongside Ayushmann Khurrana and Rajkummar Rao in the lead.
The film is written by Dangal's writer director Nitesh Tiwari and Shreyas Jain.
Bareilly Ki Barfi is Ashiwny Iyer Tiwari's second film as a director and the film has created a lot of right noise, and her direction has been praised by everyone.
Juno Chopra is the creative producer who has been involved with all aspects of the film.
The collaborative effort between Ashiwny Iyer Tiwari, creative producer Juno Chopra and writer Nitesh Tiwari of Dangal fame and Shreyas Jain has worked very well.
Bareilly Ki Barfi is produced by Junglee Pictures and BR Studios.
The film is slated for release on 18th August 2017.
-ANI