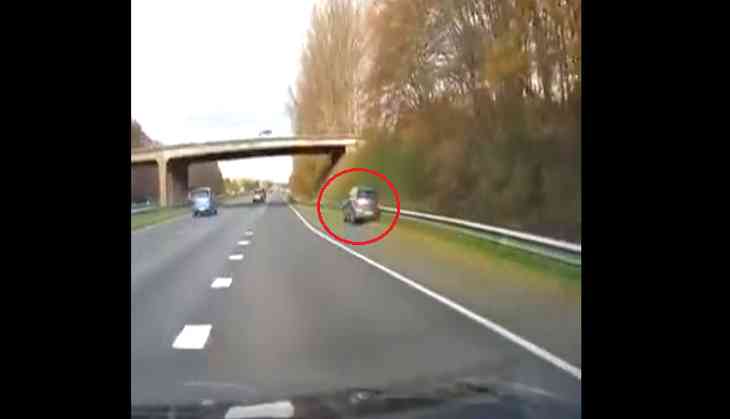 Woman falls unconscious while driving
A video has gone viral on social media which shows an unconscious woman who had lost control of her car. The incident took place in the Netherlands and was recorded by a person who was following her car.
However, she was saved by another man who sacrificed his car to save the driver. the 41-second video shows that how a car follows another car rams into the vehicle and then the car gets stopped.
Also Read: Cop saves female colleague moment before car smashes into their cruiser; video will leave you dumbstruck
The viral clip shows a car, which was not moving at normal speed but sometimes on the road and sometimes on the grass patch next to a highway. Thankfully, another car driver noticed that something is wrong with the driver.
Another car driving in front of the car stopped it by letting it bump against its rear.
The whole incident was recorded on the dashcam of a car moving behind the two cars.
Meanwhile, the video has gone viral after it was shared with a caption, "Man sacrifices his car to save another driver who was unconscious."
Watch Video:
Man sacrifices his car to save another driver who was unconscious..

Via @RTVNunspeet pic.twitter.com/drgac0UDez

— Buitengebieden (@buitengebieden_) November 21, 2021
Ever since the video is being shared online, it has garnered over 7 lakh views and over 20,000 likes on it. According to media reports, this shocking incident took place in Nunspeet on Friday afternoon.
The man who saved the woman was identified as Henry Temmermans, who noticed a car wildly when he was driving back home. He then drove his car ahead of the woman's car and tried to stop it by sacrificing his car.
Mr Temmermans saw that the woman had vomited and was not feeling good. He had also called an emergency number. The cop reached the location and tow away Mr Temmerman's car.
One of the tweets in the thread revealed that the woman is left with five broken ribs from the incident.
However, it was not clear that how she felt unwell and became unconscious.
Netizens hailed Mr Temmermans for his quick response to save the life of the driver.
Also Read: Caught on Cam: Elderly couple trapped inside burning car; know what happens next