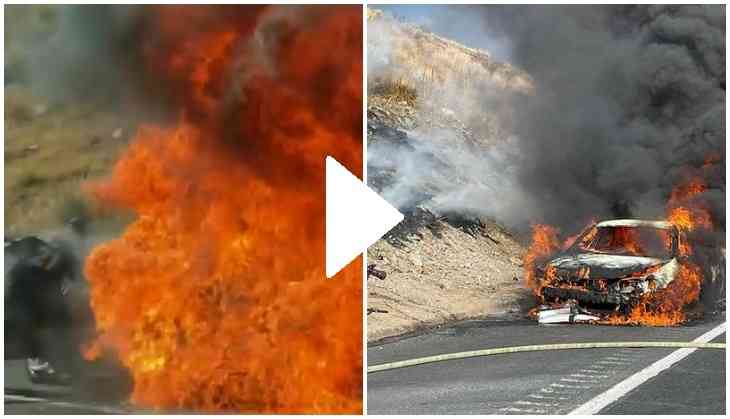 Screenshot from the viral post
Footage of the horrifying incident has surfaced on the Internet which shows an elderly couple's rescue by bystanders from a burning car. Netizens are hailing the courageous act of the Good Samaritans, who helped the elderly couple before any mishap.
The video was shared by Lakeside Fire Protection District on Instagram. They posted a video with a descriptive caption, "This evening Lakeside units responded to reports of a vehicle fire on the westbound lanes of I8 just east of Lake Jennings. A bystander was able to capture the moment 2 other bystanders rescued the 2 elderly occupants from the burning vehicle. The 2 occupants and a bystander were transported with burn injuries. The fire extended into the vegetation but was quickly contained."
Also Read: Incredible! Firefighter manages to catch a suicidal man mid-air; watch hair-raising video
They also added that the video was recorded by a woman named Marie Macrorie. The Insta account also contained a few images of the incident.
Have a look at the post shared by Lakeside Fire Protection District:


According to For News, the couple was later rushed to a hospital and they are expected to make a full recovery.
One of the bystanders who saved the couple, Henry Hemphill, told Fox News, "I saw how big the flames were and I realized a few more seconds maybe we may have been too late."
Meanwhile, the footage of the incident has gone viral on social media and it has gathered various reactions from Instagrammers.
"This is great. Those people are what we all strive to be," a user wrote.
Another commented, "Everyday heroes can make the difference in this world"
One of the users wrote, "God bless the heroes who rushed to save the couple from the fire! 🙌Prayers for a full and swift recovery for all injured!"
Also Read: Ceiling fan falls on family having dinner at home; what happens next will amuse you!