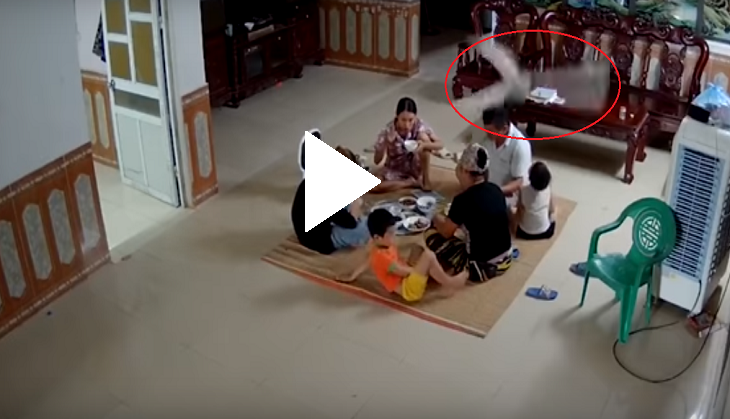 Screenshot from viral video
A hair-raising video has surfaced on the Internet which shows a ceiling fan fell on a family having dinner.
The incident took place in Vietnam and the footage was shared on YouTube by Viral Hog. In the video, the Vietnamese family of six people, including children was having dinner in their living room on the floor.
Also Read: Terrifying video shows family jumps out of the car rolling down the cliff
After a few seconds, the child sitting next to the father looks curiously towards the ceiling. Suddenly, the fan comes down and lands between the father and the child.
Check out the video:
Luckily, nobody was hurt in this incident as the fan blade fell right between the legs of a father. The mother immediately takes the child a few steps backward.
While the father can be seen inspecting the fan. At the end of the video, the father keeps the fan on the other side of the room.
Also Read: Believe it or not! Man dragged by some 'invisible' force in gym; spooky video goes viral
As per the YouTube page, the incident took place on July 8 in Ninh, Vietnam.
The video was shared with a caption: "The whole family was eating when the ceiling fan fell right between us. Luckily no one was hurt."
Meanwhile, the video has garnered over 30,000 views and left many people surprised as no one is injured.
One of the users wrote, "Now that's a miracle. 3 people in between and no one's injured."
"That was a very lucky escape," another wrote.
A user commented, "That's when you know that good spirits are looking after you. 😊 That was a close shave. I'm thankful that they are saved."
Also Read: Man tries to tie rakhi on snakes; what happens next will terrify you!