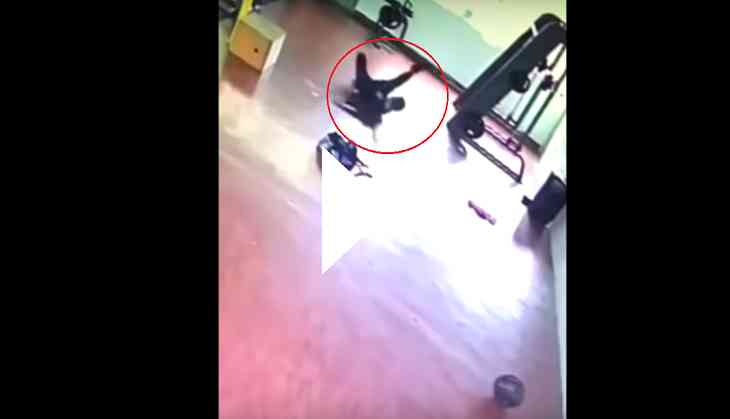 Screenshot from the viral video
A haunted video has gone viral on social media which showed a man being dragged by someone in a gym. However, no one was caught on camera which dragged the man. It is believed that some invisible force was there who dragged the man who was working out inside the gym.
The terrifying incident was shared on the TikTok video, which shows the invisible force dragging the man with full force that he even fell onto the gym floor.
The viral clip begins with a man beginning his gym session with stretching exercises.
However, he is all alone on that floor of the gym.
After a second, the TRX suspension starts swinging to and fro while the man continues his session. Suddenly, a weighted medicine ball rolls down towards him, which freaked him out.
He immediately runs to pick up his stuff to leave the room but falls to the ground. In the viral video, the man can be seen dragging across the floor by an invisible force.
Don't believe us, check out the video:
The CCTV footage of the incident was posted on TikTok by @carlosruizoficial. The scary video has gone viral with more than 12 million views.
Also Read: Scary! Woman falls from building while 'ghost hunting'
The video was later shared on a YouTube channel called Fate Decided along with a caption, "A man on TikTok was at the gym trying to get a workout when some scary events began to take place. It appears the man is dragged by some force unseen. Check out the terrifying video. Is this paranormal? Or faked for views on TikTok?"
Meanwhile, the video is receiving mixed reactions from netizens. Some are calling it staged to get views online while some are believing the presence of a ghost inside the gym.
One user wrote, "He probably made a deal with the wrong demon. We had known many people who had done stupid things like that."
Another commented, "It seems staged, why was he alone, doing nothing but looking in the mirror? Did he start the ropes swinging before he went to the mirror? Was someone off-screen? I don't know. Paranormally, not a demon IMHO, could be a poltergeist, ? I think he could have manipulated himself across the floor like he was being dragged. My guess -- staged."
Also Read: Dead filleted fish without a head jumping up and down inside oven; video will haunt you!