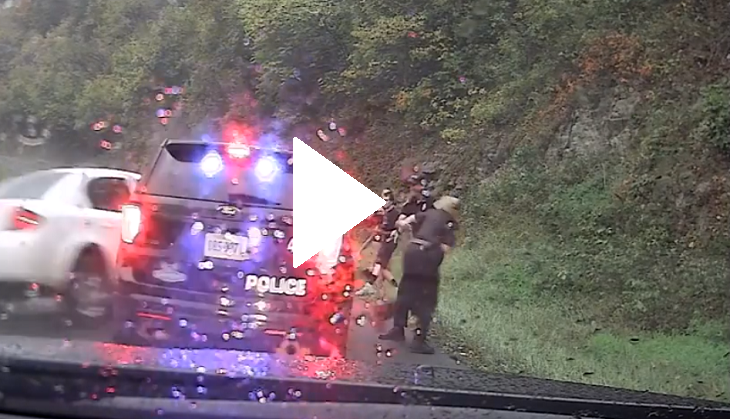 Cop saves female colleague moment before car smashes into their cruiser
A horrifying moment was captured on camera which showed police personnel saving the life of his fellow officer after a skidding car smashed into their vehicle in Virginia, US. Thanks to the quick reflexes of the officer who saved the woman from the major mishap.
Meanwhile, the jaw-dropping visual has gone viral on social media.
The video was shared by the Gate City Police Department in Virginia, which shows two officers are talking with a few civilians near a patrol car. The woman cop named Officer Jessica McGraw was responding to an accident on Highway 23, about six miles from the Tennessee border, Daily Mail reported.
She asked for help to know the status of one of the driver's licenses, and Officer Matthew Stewart answered the call.
They were discussing over the case off the side of the road. During this time, officer Matthew noticed an out-of-control car coming towards their vehicle and he immediately pulled McGraw away from the patrol SUV just before the car smashed.
The skidding vehicle was traveling north on the other side of the highway and it had crossed the median before it got hit the McGraw's cruiser.
The officers were left shocked, however, the quick-thinking of Officer Matthew saved the life of his colleague. After the crash, officers reached for their radios.
"It is my belief the quick actions of Officer Stewart not only saved himself from serious bodily injury or death but also that of Officer McGraw,' Gate City Chief of Police Justin C. Miller wrote on Facebook Wednesday.
Stewart revealed that his "leg went numb like I had a bad charley horse."
"Upon review of the dash camera footage it appears the brush guard of officer McGraw's patrol vehicle brushed against officer Stewart's leg as he pushed McGraw out of the way," FB post reads.
Virginia state police launched an investigation into the matter and later the driver of the white car issued a citation for "failure to maintain proper control of their vehicle."
Meanwhile, the video has gone crazy viral on a social media platform. The video has received 1.4k shares and 1.3k likes on the official FB page of Gate City Police Department.