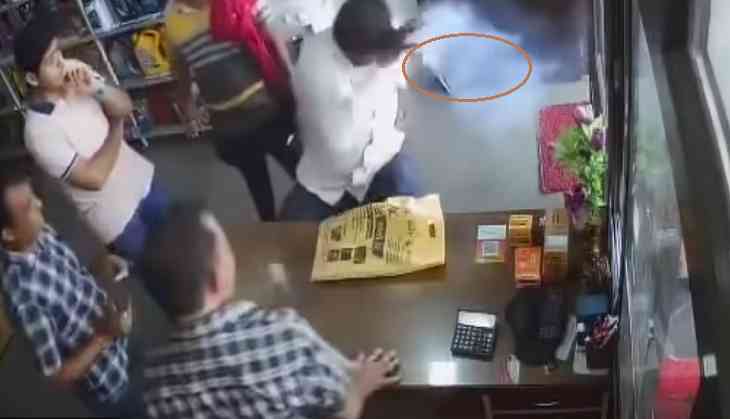 Mobile phone explodes in man's pocket
CCTV footage of a mobile phone explosion in a man's pocket has gone viral on social media. In the video, a man can be seen sitting inside a showroom and chatting with the shopkeeper, smoke suddenly started coming from his mobile phone kept in his shirt's pocket.
The incident took place in Radhanpur town of Patan, Gujarat on Thursday, TOI reported.
However, the man Ramchandra Thakor, whose phone got exploded was unhurt in the incident.
The CCTV footage shows Thakor was sitting in the showroom and was talking to the owner when all of sudden the fumes were coming out of his shirt's pocket where he kept his phone.
Soon, Thakor threw the device on the floor by kicking it out of the shop.
Also Read: Horrifying! Alligator grabs woman zookeeper's hand during birthday party; know what happens next
Thankfully, no one was injured in the incident as the frightened person immediately took out his mobile phone from his pocket and threw it outside the shop. The disaster was averted as the person immediately noticed the smoke coming out from his phone.
See video:
The video was shared on the YouTube channel, Our Vadodara, on August 28 and it has garnered over 8k views till now.
In a similar incident, a video of a phone explosion had also gone viral on social media in April. In the video, a mobile phone of a Chinese man caught fire in his bag. The incident took place in a crowded place. However, no one was injured in this incident as the man threw his bag on the ground.
Also Read: Incredible! Watch how whale helps woman who accidentally drops her iPhone into the sea