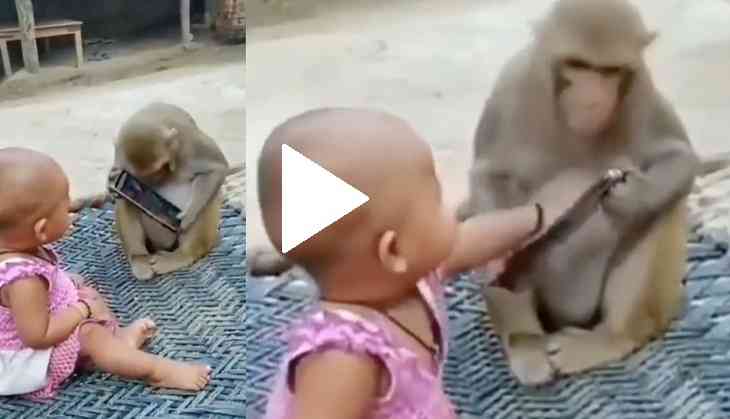 Monkey snatches phone from baby girl
A new animal video surfaces on social media every other day. Several animal videos have left us shocked while some videos have tickled our funny bones. One such latest video of monkey has surfaced on the Internet which will surely give you a barrel of laughs.
The video was shared by an Instagram user named Jagadeesh Madineni. In the video, a little girl can be seen playing with a mobile on a cot in an open area. After a few seconds, a monkey is seen coming near the girl and sitting on the cot.

Moments later, the monkey is seen snatching the phone from the girl and starts looking at the phone. However, the baby takes her phone back from the animal.
Also Read: What! Monkey robs Rs 1 lakh from autorickshaw; bizarre incident goes viral

It seems like the primate doesn't want the girl to take a phone from its hand. The monkey again snatches the phone from the girl and hugs it tightly.
Watch this cute and funny mobile fight between monkey and baby girl:
Ever since this video was posted online, it has garnered over 1.4 lakh likes, and netizens left in splits after watching the hilarious clip.
One of the users said, "It's my phone. Give it back." While many shared laughter smiley in the comment section.
What's your reaction after watching this extremely rib-tickling video?
Also Read: Monkey drinks alcohol from bottle itself; video will leave you stunned!