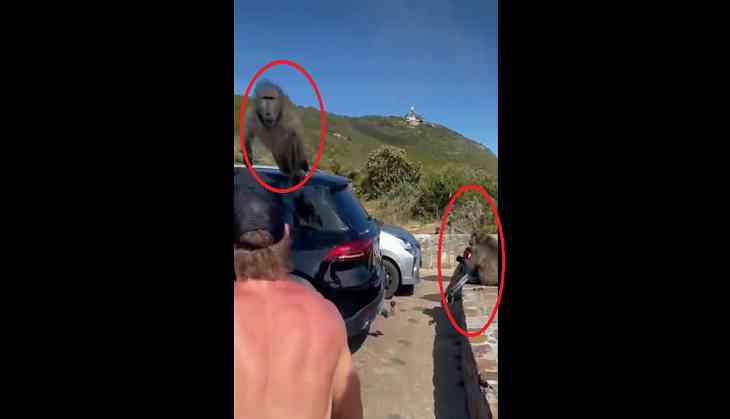 Monkey attacks YouTuber's bag
A video of monkeys attacking YouTuber Logan Paul has gone viral on social media. In the video, a group of monkeys can be seen harassing the YouTuber during his recent trip to South Africa.
Logan Paul (26), also captured the moment when he encountered the huge monkeys in Cape Town, reports The Sun.
Reportedly, the 26-year-old YouTuber was filming content for his channel and then he was accosted by two baboons. One of the monkeys was sitting in a car while the other can be seen rifling through the YouTuber's bag.
Also Read: Mother throws her little daughter into bear enclosure; horrifying video goes viral
In the video, the huge monkey can be seen looking for something in the YouTuber's expensive camera equipment. While another monkey was chasing Logan Paul around the parking lot. The monkey can also be seen jumping from car to car as his partner continued going through the YouTuber's bag.
Logan shared the video on his official Twitter account along with a caption, "wtf just happened"
Watch Video:
wtf just happened@primehydrate pic.twitter.com/sbZMWXWfuB

— Logan Paul (@LoganPaul) January 30, 2022
In the video, Logan Paul could be heard asking his cameraman, "What do I Do? Is he grabbing my s**t?"
Also Read: What! Monkey robs Rs 1 lakh from autorickshaw; bizarre incident goes viral
The cameraman replied, "Yeah, he's got your camera."
At the end of the video, the monkey left the spot after taking a bottle of energy drink from Logan's bag.
Meanwhile, the footage of the daylight robbery has gone viral and has now garnered 2.8 million views on the microblogging site.
Netizens were also left amused after seeing this robbery clip.
Also Read: Monkey snatches mobile phone from baby girl; video will make you burst into laughter