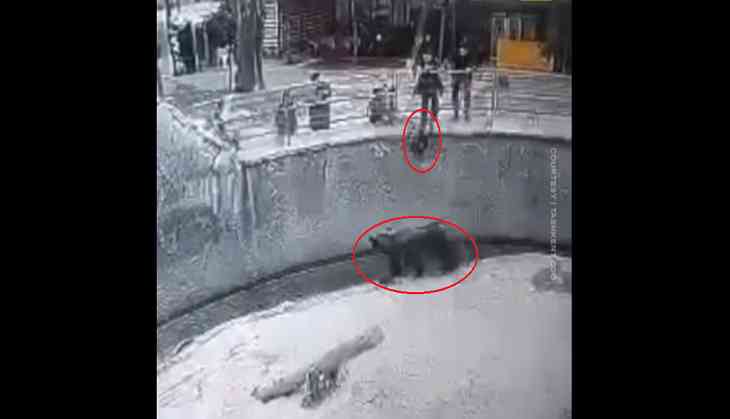 Mother throws her daughter in bear enclosure
A Zoo is a place where wild animals and domesticated animals are exhibited in captivity. Visitors enjoy going to the zoo because one could feel safe while watching these animals with all safety and precautions. Sometimes watching wild animals or teasing them could be a risky thing to do.
The Internet has been filled with many videos wherein animals have attacked the visitors. Another scary video has gone viral on social media which shows a mother is seen throwing her three-year-old daughter into a bear's enclosure in a zoo.
Also Read: Scary! Lion bites zoo worker's hand after he tries to pet it; see what happens next
The footage has shocked everyone and raised questions that why the mother did so.
According to video description, the blood-curdling incident happened in Uzbekistan when a woman threw her daughter into the bear enclosure at a zoo in Tashkent. The video has now gone viral on social media.
Watch Video:
The people around the woman were left shocked and also alerted the zoo authorities to rescue the girl.
They asked the staff to lure the bear and took it into another part of the cage.
The toddler miraculously survived, as she only suffered from the fall and not from the beast. She was immediately shifted to the nearby hospital.
Reportedly, a police case has been registered against the mother for attempted murder.
Also Read: Tiger pounces on 7-year-old boy inside zoo; video will give you goosebumps!