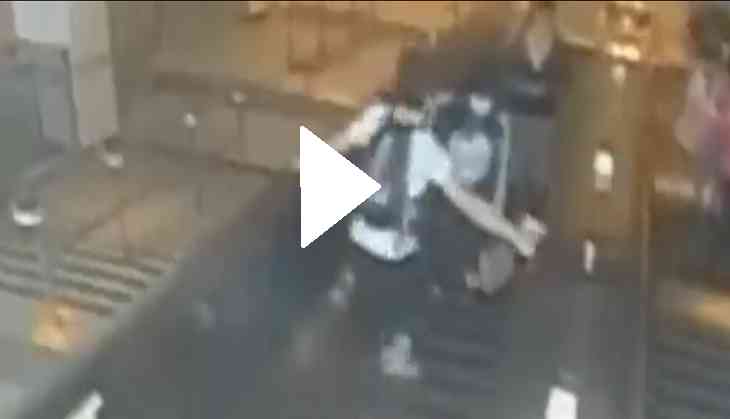 Screenshot of man kicking woman down escalator (Screengrab: Twitter)
In a gruesome incident, a man kicked a woman down an escalator in Brooklyn. The video of the brutal assault has gone viral on social media.
In the surveillance video, the man can be seen kicking a woman in the chest due to which she falls down the escalator.
The alleged incident took place on Thursday evening at the Atlantic Ave-Barclays Center Station, a typically busy subway stop.
Also Read: Caught on Cam: Elderly couple trapped inside burning car; know what happens next
Meanwhile, police are seeking information about the man who kicked the woman down the escalator.
See video:
🚨WANTED for ASSAULT: Do you know this guy? On 9/9/21 at approx 7:15 PM, at the Atlantic Ave-Barclays Center Station in Brooklyn, the suspect kicked a 32-year-old woman in the chest, causing her to fall down the escalator. Any info? DM @NYPDTips, or anonymously call 800-577-TIPS. pic.twitter.com/j6yFToIlvU

— NYPD NEWS (@NYPDnews) September 13, 2021

What is even more shocking about the incident is that no one is seen helping the woman after she tumbles to the bottom of the escalator. The woman suffered bruises and cuts to her back, legs, and arms, and trauma to her left ankle. However, she refused to seek the medical attention at the scene, the police said.
In tweets, New York police said that they are seeking details about the man. Those with information can send a message to the department on Twitter, @NYPDnews, or by anonymously calling 800-577-TIPS.
Also Read: News Blooper: Fire extinguisher explodes in news presenter's hands; horrific moment goes viral