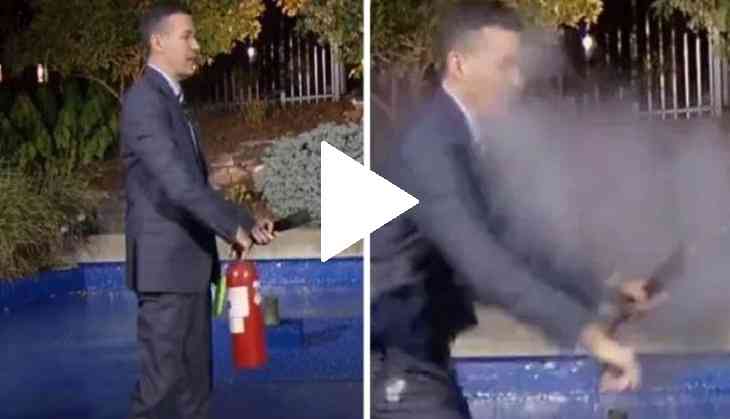 Fire extinguisher explodes in news presenter's hands. (Pic source: YouTube)
An old video of a news presenter using a fire extinguisher during a live show has gone viral on social media. However, he had an unfortunate incident while presenting a weather report.
In the viral video, the news presenter named Jude Redfield, the meteorologist was presenting a news report on high temperatures in Louisville, Kentucky during a segment for WDRB News when the incident happened.
Reportedly, the city had been witnessing a record of a heatwave at that time, therefore, he kept the fire extinguisher to extinguish the heath.
Also Read: Caught on Cam: Elderly couple trapped inside burning car; know what happens next
When he was about to use the fire extinguisher, the shocking incident took place that will surely give you a lesson while using the extinguisher.
Redfield turned the extinguisher in the direction of the graphic showing temperature and pressed it to minimize the heatwave in the city. However, his action went wrong when the extinguisher made a pop sound and the canister of the fire extinguisher fell to the ground.
Watch video:
Redfield also called it one of his top five moments in broadcast history.
The smoke started coming out of the fire extinguisher and Redfield was left shocked while holding the nozzle of the device.
However, he didn't get injured in the incident as he escaped harmless.
Meanwhile, the whole dramatic incident resurfaced on the Internet and has again garnered thousands of views after it was first shared in 2019.
Also Read: Woman screams after seeing huge snake outside her house; horrifying video goes viral