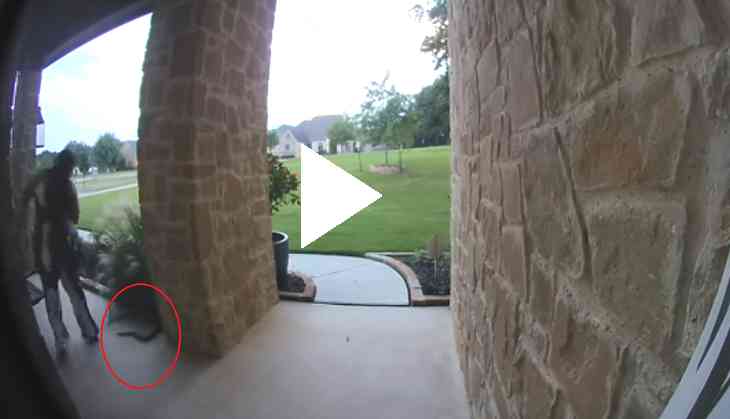 Snake jumps out of the bushes
A shocking video from Texas, United States, has surfaced on the Internet which shows a woman screaming after a snake lunged at her. The viral video was shared on a YouTube channel named ViralHog.
The whole incident was captured by a Ring security camera outside the home. In the video, the woman named Chaunva LeCompte can be seen walking outside to sit on the porch of her home, when the reptile jumped out at her. She shouted in fright after seeing it and ran back into her house. The woman revealed that she 'nearly died' after the snake lunged at her.
Also Read: Cobra enters woman's house; what she does next will amuse you!
The footage shows the reptile left the spot quietly while the woman's screams can be heard during the whole video.
Watch scary video:
"I was walking outside to sit on the front porch with my mother as she was leaving. To my surprise, there was a snake hiding in the bushes waiting for me. He jumped out at me and I near died," the woman said.
As the video went viral, it has garnered 29,881 views and netizens expressed their opinions on the clip.
A user said, "Oh that poor woman. I have arachnophobia. I can't even imagine walking out of my house, as a giant bird-eating tarantula jumps off the roof, landing on my shoulder. OH HELL NO"
"I don't blame her. That's a big snake," another commented.
Also Read: Snake enters in scooty's handle; what it does next will shock you