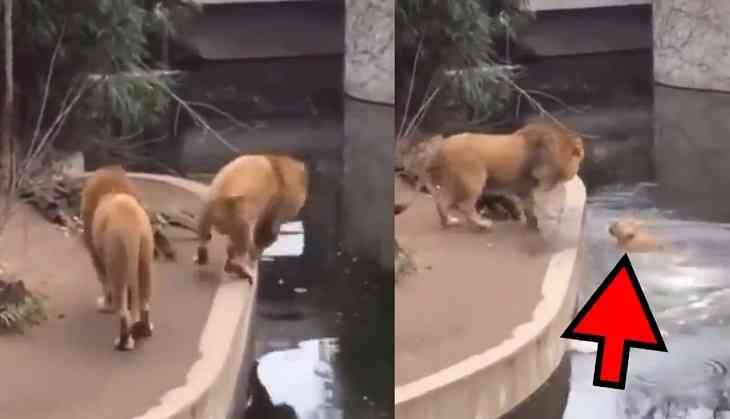 The Internet is full of various hilarious videos of animals that have gone viral and even resurfaced on social media platforms. One such old video of a lion has been shared again on social media.
The video was tweeted by Twitter account @hopkinsBRFC21. In the video, two lions were seen walking around the edge of the artificial lake. After a few seconds, one of the lions lost his balance and fell into the water hole.
Initially, it appears to be a scary incident but the lion managed to swim and came out of the artificial lake within a few seconds.
Also Read: Cat falls from upper deck of the stadium during football match; scary video goes viral
The incident happened in a German zoo and the video went viral on social in 2018, which has been re-shared on social Twitter.
Watch Video:
What do you mean I fell? I was just going for a swim 😅😂❤️ pic.twitter.com/8ulKR5xtP9

— ❤️ A page to make you smile ❤️ (@hopkinsBRFC21) September 19, 2021

The video was shared with a caption, "What do you mean I fell? I was just going for a swim"
Since the video is being shared online, it has garnered over 9k views and 1,078 likes on Twitter.
Many netizens laughed at how the lion climbed out of the lake while many noticed how the other lion got panicked after his friend fell into the water hole.
Also Read: Baby elephant falls into pond; rescue video will make you fall in love with jumbo family