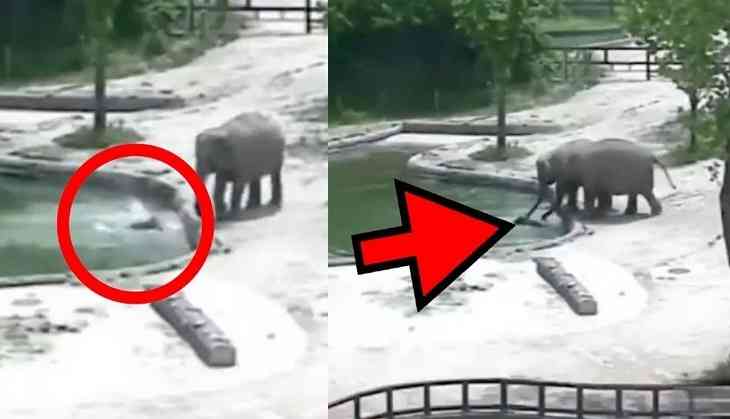 An amazing video of a baby elephant's rescue has surfaced on the Internet. The video of the jumbo and its family is making netizens happy. The viral clip gives the best example of unity is strength.
In the 49-second clip, a baby elephant can be seen standing near a pond with other elephants from its family. All of sudden, the baby elephant fell into the water hole. However, the two elephants tried their best to rescue the little jumbo.
While the calf can be seen struggling in the water and the two other adult members find a way to get into the water to rescue the baby elephant.
Also Read: Scary! Elephant walks close to railway track; see what happens next
Slowly and steadily, the adult elephants pushed the baby elephant towards the shallow end of the water hole. Finally, the baby elephant easily walks out of the pond with the help of its family members.
The quick thinking and selflessness of the two elder elephants save the baby elephant.
The viral video was shared by @hopkinsBRFC21 on Twitter.
"This is truly amazing," is the caption of the post.
Watch the video here:
This is truly amazing ❤️ pic.twitter.com/lwCAsgBRbW

— ❤️ A page to make you smile ❤️ (@hopkinsBRFC21) September 7, 2021
Since the video being posted on social media, it has garnered 89.9k views, 1.5k likes on Twitter.
Netizens are just loving the video and sharing their wonderful thoughts about elephants.
A user wrote, "I love elephants. They care about one another more than most humans."
Another commented, "They are incredibly intelligent with complex social relations. They should not be living in a zoo or whatever this is where there is so much cement. Causes a lot of foot issues."
"How wonderful elephants are. Very caring & tender towards their own. It's certainly is a terrific post," comment by a user.
Also Read: Elephant Power: Electric fence! why bother when tusker leads the charge