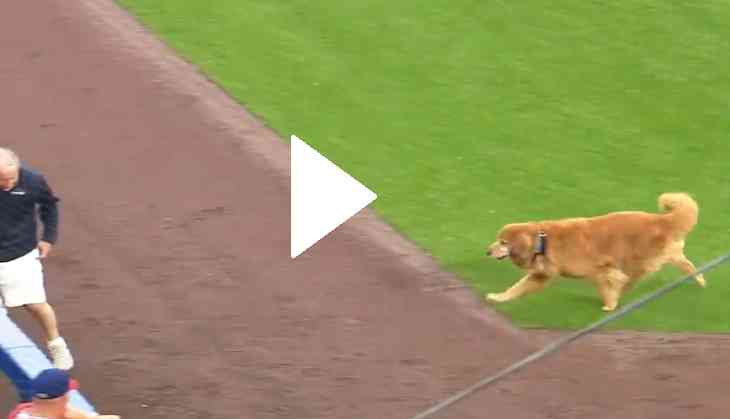 Dog interrupts match by running onto the pitch (Source: Twitter)
Internet is a bag full of entertaining and cutest videos that made us feel happy. Especially, when it comes to animals, so many dangerous and adorable videos can be watched on this huge platform. Recently, we have come across a pawdorable video of a dog that invaded the pitch during a game and steal the light.
The funny incident took place during a baseball match between Buffalo Bisons and Lehigh Valley IronPigs. The video of the furry guest was shared by Minor League Baseball on its official Twitter handle.
Also Read: Bravo! Man saves his dog from an alligator; video goes viral
In the video, a golden retriever can be seen interrupting the match by running on the field.
The dog's name is Rookie and he is the 'bat dog' of a team called 'Trenton Thunders'.
Watch Video:
.@BatdogRookie got a little excited during his Sahlen Field debut with the @BuffaloBisons 🤣

We still love him @TrentonThunder. pic.twitter.com/2KJn8OnxNK

— Minor League Baseball (@MiLB) September 22, 2021
Without worrying about the match, Rookie is seen enjoying while taking a round of the baseball field.
Also Read: Dog swallows owner's AirPods; what happens next will surprise you!
While in another video, the golden furry is also seen stealing away the baseball bat and can also be seen bringing it off the field.
You're doing amazing, sweetie. pic.twitter.com/ypBckHRVZ2

— Minor League Baseball (@MiLB) September 22, 2021


Undoubtedly, both videos have gone viral on social media. The first video has garnered over 1 million views while the other video grabbed over 32k views on Twitter.
Netizens also loved this naughty act of Rookie.
A user wrote, "He's just doing a sniff check for Sticky Stuff." Another commented, "rookie was just doing a mound visit what's the big deal?"
One of the users said, "Telling the pitcher to throw the ball already so the batter can hit and he can go to work! Good boy"
What's your view on this video?
Also Read: Dog saves owner's life during medical emergency; know how