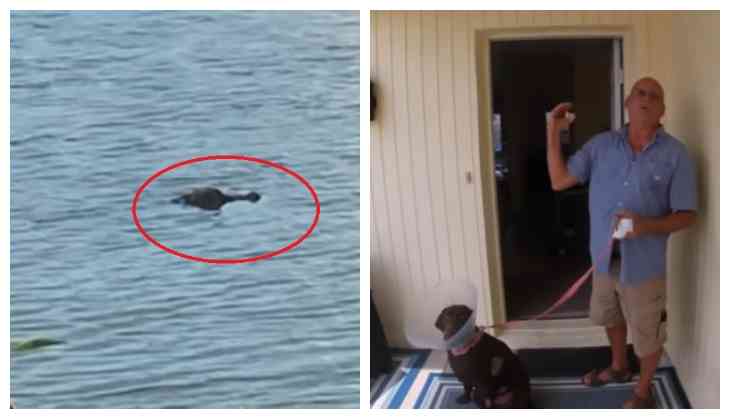 Man saves his pet dog from an alligator
Many people put their lives at risk to save an animal or their beloved pets. One such example has been shown by Mike McCoy who didn't think about his life when his dog Jake ended up in dangerous waters.
To save the life of Jack, Mike reportedly fought an alligator and thumbed the reptile in the eye as it tried to kill his pet.
The horrifying incident took place when Mike was walking Jake through a neighbourhood in California. While walking a few metres ahead when Mike saw that something leaping out of a lake and grabbing his dog.
Also Read: 'Monster' crocodile eats two baby sharks; video will haunt you!
Without taking a second, he immediately jumped into the water and confronted the ferocious reptile. Fortunately, he saved his dog.
Mike reportedly knew a few things about how to face the dangerous reptile. He approached the alligator, thumbed in the eye, and then immediately picked it out of the water until it allowed to leave his dog, Jake.
"I previously read up on my environment and gators. I got around, thumbed him in the eye, picked him out of the water so he couldn't get anywhere until he let the dog go. And in the interim he decided, I don't have him, I'll bite you," Mike told ABC Action News.
He further added that his research on reptiles helped him as he was responded quickly and saved the life of his pet dog.
"It was only because I knew what I did that I felt confident to fight the gator off," he said.
Watch video:

Luckily, Mike escaped unhurt in the incident and suffered only minor injuries. However, his dog had needed some stitches.
Also Read: Man comes face-to-face with two killer whales while swimming; watch what he does next