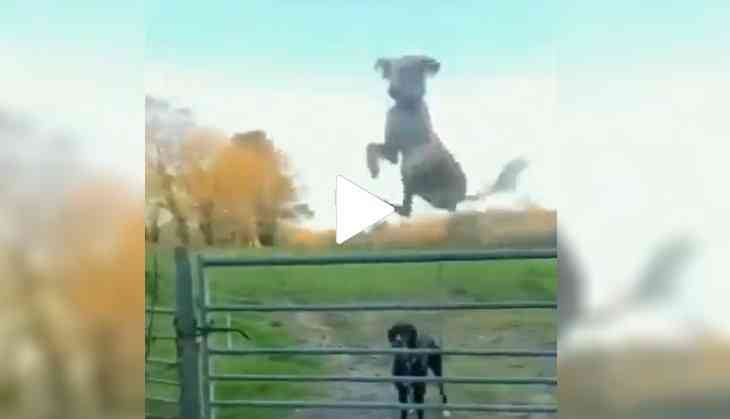 Twitter is the best place where people can get infotainment at one time and during the lockdown, netizens are vigorously sharing a different kind of content on the micro-blogging app. Now, the Indian Forest Service (IFS) officer has joined the Internet bandwagon and shared the video of a dog that can be seen nailing a high jump.
The video has left everyone stunned as only a few animals could jump so high. IFS Officer Susanta Nanda shared the video with a caption, "Dog with the inbuilt propeller."
The 3-second-clip shows a dog jumping over a high gate with ease while other dogs can be seen watching him.
See amusing video:
Dog with the inbuilt propellor😄 pic.twitter.com/qZw2v6PsMy

— Susanta Nanda IFS (@susantananda3) April 14, 2020
Once the video came to the notice of netizens, the video has received a lot of reactions, Twitterati has gone crazy and collectively shared memes and jokes on the video.
Check out how Tweeple reacted on video:

This is brilliant 🤣🤣🤣

— pavan.periwal (@PavanPeriwal) April 14, 2020
Caravan Hound..native indian breed. The Chase master bageera pic.twitter.com/qHy58mXgNX

— बगीरा (@princejaihind) April 15, 2020
Tail in Circular Motion Powers... 🤔https://t.co/6uoP7rcxAC

— Pankaj Thapliyal (@PankajT04765688) April 14, 2020
Half dog, half kangaroo... 'Dongaroo?"

— PHaskani (@PhaskaniM) April 14, 2020
His name should be HELIDOGTER ...

— Praveen Gulati (@PraveenGulati14) April 14, 2020
It must represent India in high-jump events.

— Dinesh Bajaj (@DineshBajaj_) April 14, 2020
Our very own mudhol hounds.. pic.twitter.com/JYxjUU4dgY

— You (@BelaginaJava) April 14, 2020
Meanwhile, the viral video has garnered over 9.9k views, 1k likes and 180 retweets.
What's your reaction on the video? Share your comment on our Twitter, FB page...
Also Read: Gujarat: Drone delivers pan masala amid lockdown; police take action after video goes viral