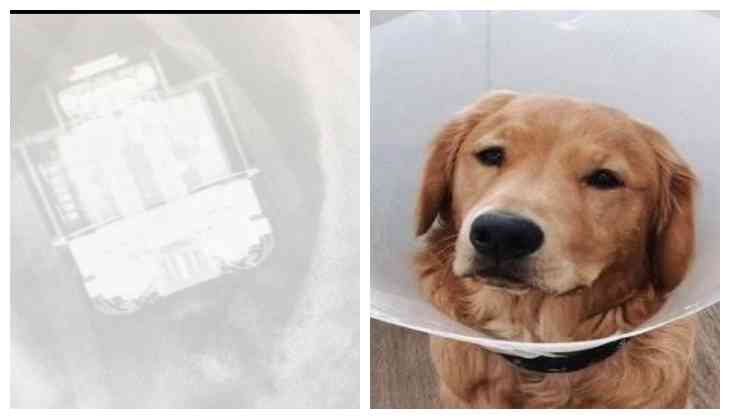 The story of Golden Retriever was shared by the clinic on Facebook where the dog was treated. ((Source: VetsNow/Facebook))
Pet animals are just like a child who needs special attention and should not be left alone at any home. Sometimes they ingest things that can harm them as we have seen many times how animals even eat food from the trash. One such similar incident has been reported where a dog swallowed his owner's AirPods.
The owner is identified as 22-year-old Rachel Hick, who lives at home with her parents in Willerby, near Hull, and has a Golden Retriever. On Sunday, Hicks gifted a traditional Easter egg to her pet.
Also Read: Dog saves owner's life during medical emergency; know how
The dog was over excited to eat his treat and therefore, he jumped on Rachel Hick due to which her AirPods fall on the floor. Before she realized about her AirPods, her dog had eaten them whole.
"As he jumped, he knocked my AirPods out of my pocket and they fell on the floor. Before I realized that it dropped on the floor, he'd eaten them whole," she told the Daily Mail.
Soon after, she rushed her golden retriever Jimmy to the emergency room.
Also Read: Woman eats five-day-old sushi from service station; what happens next will shock you!
A senior vet named Dr Susana Jauregui check up on the dog and decided to do immediate surgery on the dog.
The vet operated on him and successfully conducted the surgery. The surprising thing was that the AirPods came out in perfect condition without any scratch even after being inside the dog's stomach for hours.
Rachel also left stunned after seeing that her charger and the headphones still worked perfectly.
Dr. Jauregui said, "Battery acid is highly dangerous to dogs as are large foreign objects, especially if they are allowed to pass through the intestine."
Meanwhile, Jimmy is back home and wearing a cone. Speaking to the Hull Daily Mail, Rachel said: "He's a bit sorry for himself, we're not allowed to exercise him so he has all this energy and nowhere for it to go.
"I have been so worried about him, it's certainly a cautionary tale for other dog owners. I can't believe the AirPods still work, they've had a good clean!"
Also Read: OMG! Woman eats her diamond engagement ring while sleeping; know bizarre reason