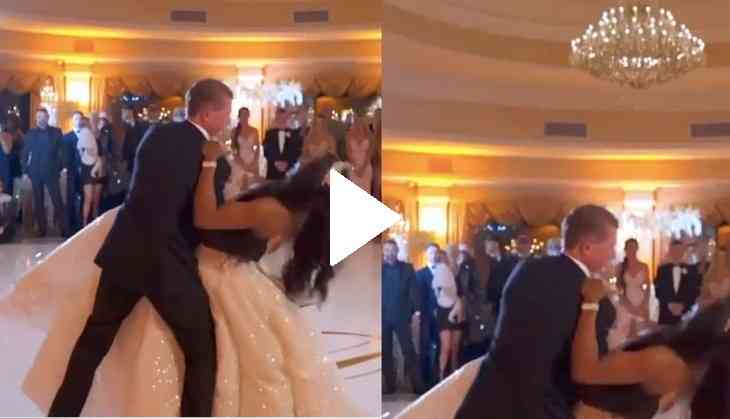 A wedding is incomplete without music, dance, and fun. Social media is filled with various wedding videos wherein the bride and groom take the limelight either for their emotional moments or for their dance videos. One such viral video has surfaced on the Internet which shows a bride and groom can be seen doing a dance step.
The video was shared by an Instagram user named 'haitianbeauty25' along with a caption, "Falling in love Not exactly the finale I had in mind. Not sure he understood the assignment!
Not sure I cared..Can't really blame him with all 5'9 of muscle + Galia Lahav weight"
Also Read: Photographer deletes all wedding photos of groom and bride for this bizarre reason
In the viral video, the bride and groom can be seen dancing on the stage but then falling as the groom dips the bride while performing a step.
Watch video:

In the video, wedding guests can also be seen looking at the couple as they are set to dance.
However, when the groom dips the bride, they fell back on the stage while the guests started screaming and left in shock.
Since the video is being shared online, it has garnered over 13,000 likes and over 5 lakh views on Instagram.
Netizens were also left stunned after seeing the video. One of the users said, "Omg hilarious but still so beautiful"
Another user said, "He was defenseless against the weight of your dress 🤣🤣🤣 I love that you're sharing this"
"He needs a trainer to get his weight up," a user commented.
Also Read: Oh No! Photographer falls into swimming pool while recording wedding ceremony; hilarious moment goes viral