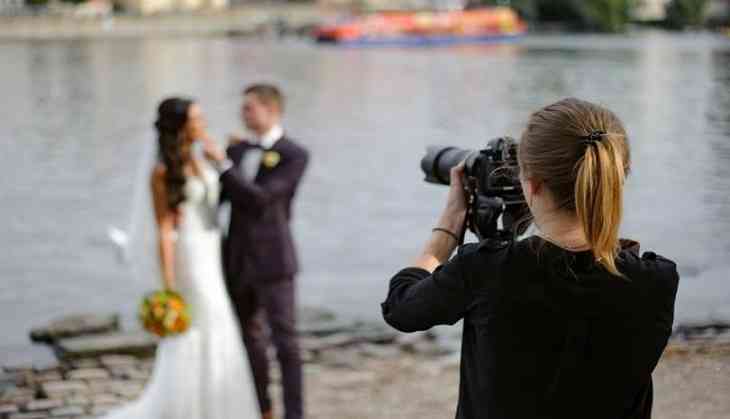 Representative Image (Image Source: YouTube)
Memories become real when we clicked the photograph of those moments that we spent in our past. All thanks to the photographer who capture those wonderful moments on his or her camera. A bizarre case has gone viral on social media wherein a photographer deleted all the unforgettable moments of the groom and bride.
An anonymous photographer shared her story on social media and revealed why she deleted the wedding album of the newlywed couple. Taking her ordeal on Reddit, the photographer said that she works as a dog groomer and she often photos her clients' dogs on her Instagram and Facebook pages.
Also Read: Oh No! Photographer falls into swimming pool while recording wedding ceremony; hilarious moment goes viral
One of her friends was getting married, who convinced her to click his wedding pictures to save money. She said yes to him and agreed to cover the wedding for $250. She was supposed to start the work at 11 am and finish at 7:30 pm.
"Around 5 pm, food is being served and I was told I cannot stop to eat because I need to be a photographer; in fact, they didn't save me a spot at any table. I'm getting tired and at this point kinda regretting doing this for next to nothing. It's also unbelievably hot: the venue is in an old veteran's legion and it's like 110F and there's no AC. To add to this, there was no facility to get water," the photographer wrote.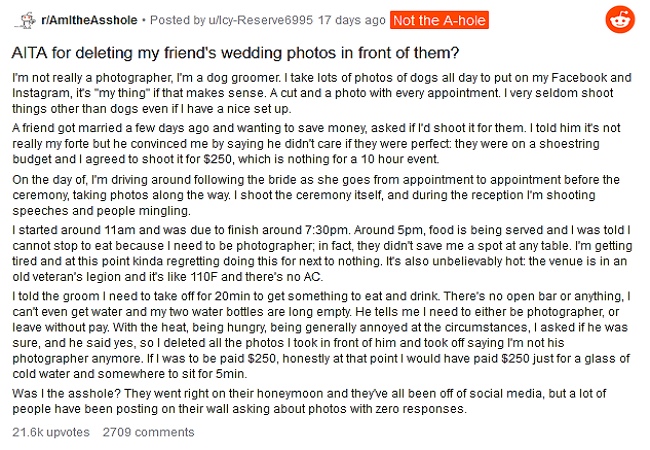 Viral post on Reddit
After feeling tired and hungry, she informed the groom that she needed a 20-minute break to eat and drink something. However, he denied giving her permission to eat and drink anything during the photo shoot.
"I told the groom I need to take off for 20min to get something to eat and drink. There's no open bar or anything, I can't even get water and my two water bottles are long empty. He tells me I need to either be [the] photographer or leave without pay," the post read
The photographer got irked by the answer of her friend, she then asked him if he was sure. When he said yes, she immediately deleted all of the photographs from the day in front of him and left the venue.
"With the heat, being hungry, being generally annoyed at the circumstances, I asked if he was sure, and he said yes, so I deleted all the photos I took in front of him and took off saying I'm not his photographer anymore. If I was to be paid $250, honestly at that point I would have paid $250 just for a glass of cold water and somewhere to sit for 5min," the photographer wrote in her post.
Meanwhile, her Reddit post has gone viral on social media. Many users have supported her and slammed the groom for his attitude.
What's your view on this viral post?
Also Read: Bride pushes groom and photographer into water during photoshoot; video will make you go ROFL!