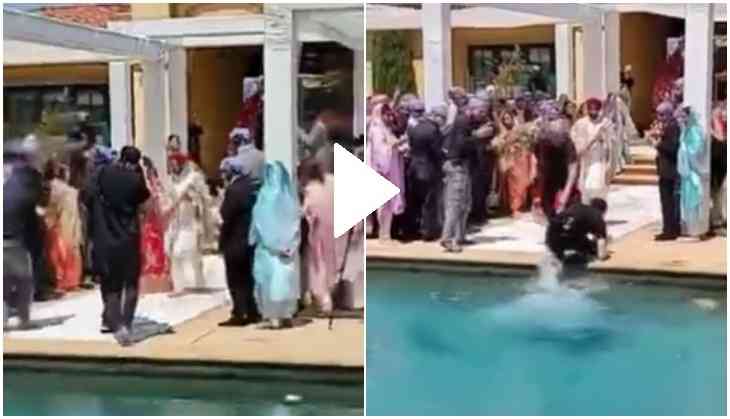 Screenshot from viral video
A photographer in wedding ceremony stole the limelight during a wedding ceremony after he accidentally fell into the swimming pool at the venue. The incident got captured on camera and has now gone viral on social media.
The viral clip was shared by Aperina Studios, with a caption, "award-winning cinematographer and photographer based out of Northern California."
The Insta page shared the two clips of the entire episode in July, however, it went viral on social media now. The wedding ceremony was organized at a lavish villa.
Also Read: Newlywed couple gets emotional, shed tears after 'varmala ceremony'; video goes viral
In the video, the bride and groom are dressed in their wedding attire and coming towards the pool. The photographer's team was recording the wedding, but the photographer, who was standing near the pool, retreated backward to film the moment on his camera. However, what happened next must be embarrassing for him.
See video:
In another video, the reactions of the groom and bride, including other guests can be seen in the video. Also Read: This bride and groom dancing like no one's watching; video goes viral
Check out the video:
Thankfully, neither photographer suffer injuries nor his camera got damaged as he managed to save his camera.
Meanwhile, the clip has gone viral on social media and netizens are sharing their thoughts and reactions in the comment box.
Also Read: Bride pushes groom and photographer into water during photoshoot; video will make you go ROFL!
One of the users wrote, "Idk how many times I've almost backed off a cliff! Haha. Nice camera save!"
"The best part of the ceremony," another user commented.
Another quipped, "Did u forgot to take shower in the morning?"
Also Read: Newly-wed couple gets this hilarious gift from their friends; video will make you go crazy!