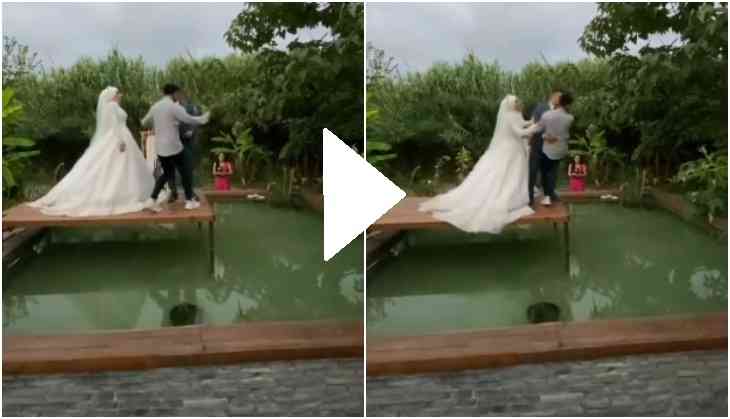 Screenshot from the viral video
Internet is full of funny wedding videos that left us stunned. From prank videos to hilarious gifts, social media is giving us a daily dose of bizarre. Weddings are full of stressful affairs for the bride and groom, some pranks and funny moments during the rituals make their D-day memorable.
One such video of a wedding photoshoot has surfaced on the Internet which shows the groom and bride posing on stage in the middle of the water. However, the bride gives a hilarious surprise to her groom and photographer during the photo shoot.
The bride pushed the groom and the photographer into the water during the wedding photoshoot. The video will surely make you burst into laughter!
Also Read: Bride starts playing kabaddi on stage during varmala ceremony; know what happens next
The viral video was shared on Instagram which shows the bride and groom posing and they are trying to decide on a pose for the picture. However, the photographer doesn't like their pose, so he decides to teach them a romantic pose. The photographer holds the groom's hand to teach the exact pose and then the bride pushes the duo into the water.
The bride starts laughing out loud while the groom and the cameraman are left stunned why she does so.
Watch video:

Meanwhile, the video is receiving hilarious reactions on Instagram. While many users believed that the prank can hurt the men. Some users trolled the bride that she should not have done this as the groom's clothes were spoiled.
One user jokingly wrote, "I can't get married after seeing this 😢👏 thank you."
Also Read: Newly-wed couple gets this hilarious gift from their friends; video will make you go crazy!