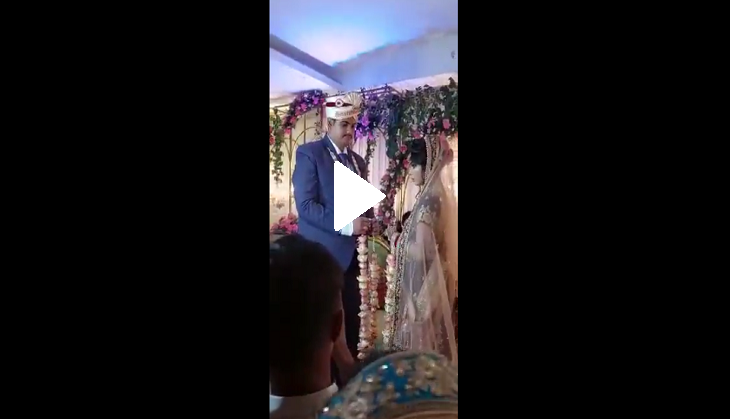 Screenshot from the viral video
These days social media has been flooded with several wedding videos which have made us laugh and even angry as well. Now, one more wedding video has surfaced on the Internet which will tickle your funny bones!
In the video, the bride and groom can be seen standing on the stage during jaimalaa ceremony. As the ceremony begins, the groom puts the garland (varmala) around the bride's neck. But, the bride seemed to be in teasing her groom.
Also Read: Groom misbehaves with bride during jaimala ceremony; video goes viral
The bride starts running here and there as she was playing kabaddi instead of performing the ritual. The interesting thing is that the groom also started following his bride but she was running fast here and there on the stage while controlling her lehnga.
To know what the groom did next, watch the viral video:
यूं तो यह जयमाल का दृश्य है, पर दुल्हन की हरकत देखकर लगता है कि वो कबड्डी खेलने के इरादे से आई थी।
दूल्हे के दोस्तों का धन्यवाद जिन्होंने जयमाल सम्पन्न करवाने में मदद की। @navalkant @sengarlive @candidbhanot @PANKAJPARASHAR_ @nadeemNBT pic.twitter.com/cDzH0o8rQx

— Manish Mishra (@mmanishmishra) July 23, 2021
Thanks to the groom's friends who stepped up and helped in conducting the ceremony. As soon as the jaimalaa ceremony was completed, the sofa was placed on the stage for the groom and the bride.
The viral video was shared on Facebook, later it went viral on other social media platforms too.
A Twitter user tweeted the video which has garnered over 19k views.
What's your reaction to the viral video?
Also Read: Groom runs away from wedding venue; know shocking reason