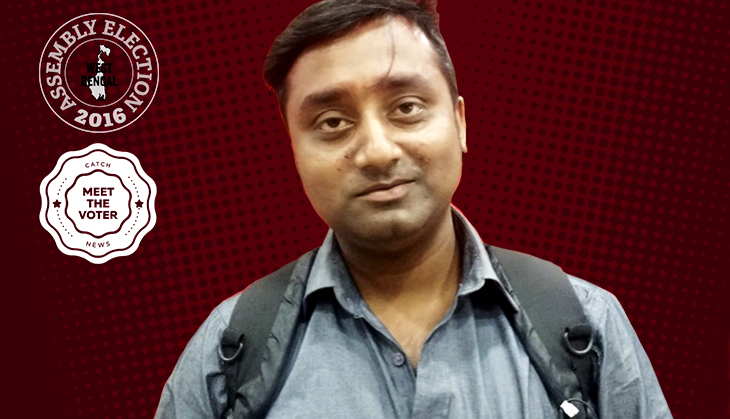 Elections are not just about politicians. They are about people and issues. And what really drives their vote.
Catch is, therefore, starting a 'Meet the Voter' series to capture what different impact groups in the poll-bound states are feeling. This is true insight into the upcoming assembly elections: up-close and hyper-personal.
Sujoy Basu is a retail manager at a Mobile Store franchisee in Kolkata. He hails from Barasat on the outskirts of Kolkata.
The 35-year-old lives with his aeging parents, and is the sole breadwinner in his family.
"My parents keep asking me to get married; I am almost 36. But I can't afford to financially accommodate another family member on my salary," he says.
WATCH: Fighting Mamata in her backyard, Deepa Dasmunsi has her task cut out
But what if he married a working woman? "That is difficult to find at my age now."
Sujoy will be voting for the Mamata Banerjee-led Trinamool Congress in the upcoming elections. He feels her term as Chief Minister has been fruitful for West Bengal.
"Development has taken place in many areas in Bengal, the public works infrastructure and health sector have seen major improvements. In fact, the road that I take home to Barasat has improved immensely," he says.
Sujoy feels that national parties like Congress and BJP have never had a strong foothold in Bengal. "BJP is only interested in pushing its Hindutva agenda in Bengal. West Bengal is not a communal state and it should remain that way. Moreover, the BJP leaders in Bengal are disappointing. The choice is either between the Communist parties or TMC, and I will vote for the latter," he says.
More in Catch - WATCH: CPM candidate Rabin Deb says "We'll bring Nano back to Singur"
Kalimpong prof Anukampa: Mamata is playing a dangerous game of communalism