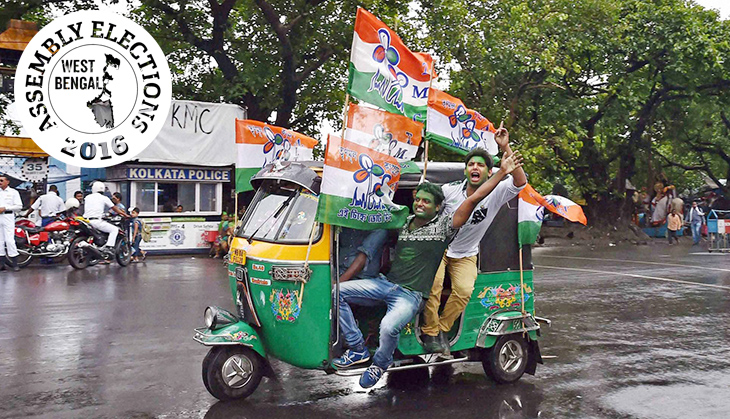 The people of West Bengal have decided to repose their faith once again in Mamata Banerjee, and the Trinamool Congress is on its way to decimate the Left-Congress combine (jote).
As of now, Mamata's party is leading on 213 seats (surpassing her victory margin in 2011), while the jote is leading in only 70 seats.
Read- Didi undefeated: Mamata reigns supreme for second straight term
There was a strong whisper campaign in the state since 20 April that the jote might even sail through. However, when Catch visited the state, it always seemed like a cakewalk for Mamata. Here are the reasons why.
Dole and development
Mamata has been largely successful in introducing the politics of direct benefit transfer to rural Bengal.
She started the Kanyasree scheme (subsidy for girl children), the Yuvasree scheme (unemployment subsidy), cycle distribution, and recruited thousands of youth as civic police volunteers. All this ensured lakhs of votes for her; the people were clearly happy.
Also read- West Bengal election results 2016: Mamata thanks people for landslide victory
Moreover, roads and bridges were another tool which helped her win votes. In the vast district of South 24 Parganas, which didn't even have pucca roads till six years ago, now boast of concrete roads even in villages.
Though it may be said that many of these changes are cosmetic, one cannot deny such steps win you votes across India, because they directly affect the lives of rural India.
Cult of personality
Just before the elections, the TMC was rocked by the Narada scandal, which showed prominent party leaders accepting bribes on camera. There was a huge uproar on regional television channels, and Opposition parties lapped up the opportunity to brand TMC as 'party of thieves', referring to the earlier Saradha scam too.
Additionally, there was the Burrabazar flyover collapse, and regular political violence perpetrated by the TMC, which seemed to be denting the party's image.
But there was no need to worry, Mamata was at hand. She assured the masses during her rallies that she herself was the candidate on all the seats, and harped on her time-tested political capital - her reputation as an honest person.
"Ask me to wash dishes, and I will do it. But please don't call me a thief. Don't vote for me if you think that I am a thief," she said.
Such statements highlighted the fact that the battle was the jote vs Mamata Banerjee, an honest, subaltern fighter who is loved by the people. Nothing else mattered.
Vote transfer
The BJP's vote share has come down to 10.6% from 17% in the 2014 general elections. The Left and Congress desperately hoped that many of these votes would be polled for the jote, as most of BJP's 2014 votes bled from the Left vote bank.
Read more- West Bengal election results 2016: PM Modi congratulates Mamata Banerjee
However, these votes have gone to the TMC.
Interestingly, the electoral equation between CPM and Congress has not worked in favour of the Left at all. Though Congress contested a far lower number of seats than the CPM, it is ahead on more seats than the Left.
This shows that a huge chunk of the Congress vote bank did not elect Left candidates; instead, they preferred the TMC.
And yes, the Muslim vote bank remained loyal to Mamata.
Edited by Shreyas Sharma
More in Catch:
The bare truth: mass nude photographer set to expose Trump's politics
Referendum on Modi or Congress-mukt Bharat? What the poll results mean for India
India's shame: Bundelkhand woman eats mud for 12 years to survive
Fake lawyers: crooks in black coats face Supreme Court crackdown