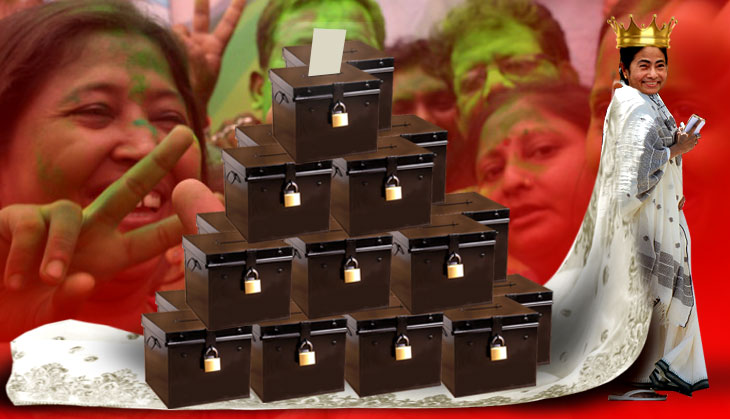 Mamata Banerjee may not have "transformed" Bengal as she had pledged to do five years ago. Still, the people in the state - notable among them the underclasses constituting Mamata's core constituency - have chosen to overlook that omission. In the latest electoral reckoning, they have re-elected the Trinamool Congress (TMC) to power for a second consecutive term by a massive majority.
Five years after scripting a fresh political narrative by dislodging the 34-year-old Left Front regime from power in Bengal, Mamata has notched up yet another huge electoral triumph. The scale of the TMC's latest victory can be gauged from the party's victory margin which exceeds even the impressive 184 seats of the last 2006 assembly polls.
Read- WB poll results 2016: Surjya Kanta Mishra's 25-year reign to end in Narayangarh?
Mamata's remarkable victory against her two opponents - the Left-Congress partnership as well as the Bharatiya Janata Party (BJP) - has proven that ousting the TMC Chief Minister from Writers' Buildings may take more than a hurriedly cobbled-up tactical opposition alliance. But the latest polls results have also thrown up new political configurations for Mamata to take note of. She now has to contend with the aggressive presence of the BJP as has been manifest in its increased seat tally and vote share.
Interestingly, Mamata's electoral feat comes at an important political juncture, when there is increasing talk in political circles, of a realignment of political forces at the national level. The TMC leader's recent camaraderie with Delhi's Aam Aadmi Party (AAP) Chief Minister Arvind Kejriwal and his Bihar counterpart Nitish Kumar of the Janata Dal (United), has stoked speculation of a third political axis against the BJP and the Congress. The TMC leader is likely to be a crucial player in this realignment process.
A shrewd politician, she has prioritised the subaltern in her political and governance agenda- people who consider the TMC leader as one of their own. Some political scientists have drawn attention to Bengal's subaltern assertion post 2011, which has in turn, provided these classes with a sense of social and political empowerment. Going by these polls results, Mamata's connection with the underclasses - once the Left's unwavering supporters - has not faded.
Today, Banerjee has withstood anti-incumbency which scalped the Congress governments of Kerala and Assam, but left her unharmed. It's of course another matter that even in the past, Bengal had defied such a victory/defeat template premised on anti-incumbency. Mamata Banerjee's victory is, in this regard, only a piece of the longer trends in the State.
Given the TMC's nebulous organisational structure, the party seems almost incidental to the present victory which can be attributed solely, to Banerjee. That despite her supreme control over her party, she has allowed her party factions to engage in bloody feuds over controlling local resources, does not however seem to have impacted Mamata Banerjee negatively to a great extent.
Neither have the corruption cases implicating her government. Despite her own clean image, Mamata's government has been in the thick of corruption scandals - from the Saradha chit fund scam to more recently, the Narada media sting operation which revealed TMC legislators and MPs taking bribes. Yet, the opposition has failed to extract decisive electoral dividends from these scandals. Mamata's own incorruptible public image could perhaps have shielded her from a backlash, in addition to the Opposition's failure to ramp up corruption into a full-blown campaign issue.
How did the TMC win?
In such a context it would be justifiable to ask: what has really changed in Bengal since 2011? Particularly since the upward graph of political violence has shown no signs of climbing down since Mamata took charge. Why then did the people support a TMC-led government for the second time?
One obvious factor that has worked for the TMC - that had also earlier ensured the Left Front government's prolonged stay in power - is the lack of a coherent alternative or challenge to the present ruling dispensation. Neither the Congress-Left alliance nor the BJP were able to project themselves as a viable alternative to the ruling TMC.
It is also relevant to mention in this context, the distinct administrative models of the Left and the TMC. Whereas the Left Front heavily relied on party organisation for every policy decision, that would eventually feed into its political power, the TMC sans such intricate party networks, functions more through conventional administrative agencies like the bureaucracy.
Also read: BJP storms to power in Assam. Here's the man who made it possible
Interestingly, Mamata Banerjee's initiation of a new economic model in Bengal, bearing some resemblance to Tamil Nadu's Amma model pioneered by Jayalalitha, has worked in her favour. Consider for example some of the schemes that have been started by the TMC government:
a monthly allowance of Rs 1,500 to unemployed youths who are registered with the Employment Bank
under the Kanyasri Prakalpa scheme, girls from families with an annual income of not more than Rs 1.20 lakh get an annual scholarship of Rs 500 and are given a one-time grant of Rs 25,000 on turning 18.
In January this year, the Chief Minister announced her government's decision to provide rice and wheat at a subsidised rate of Rs 2 per kg to over seven crore people.
Analysing the impact of what is popularly called 'doles', Ranabir Samaddar, Director of the Mahanirban Calcutta Research Group, had told me before the polls: "The problem in introducing the Amma model here is that the bureaucracy in West Bengal is not adequately oriented towards development services. It needs to improve its delivery mechanism and professionalism, which is lacking mainly due to historical reasons."

Samaddar believes that it will take Mamata time to reshape bureaucracy to a position where it will be able to dominate party units or other local power groups as far as services in local areas are concerned. "The local violence, levies, etc., are protection rackets suggesting the presence of a subaltern economy running parallel to the official, subsidised economy. The fact that TMC relies on the administration for delivery services and is a populist movement makes it more difficult for the party to keep the turbulence under control." Samddar also believes that the CPI(M) model is over.

The TMC's strategic policies towards Muslims who make for at least 27% of the State's population - a crucial segment in deciding political parties' electoral fortunes - seems to have paid off. As have the slew of welfare policies in the once turbulent tribal Jangalmahal belt in Medinipur district.

It is however yet to be seen how the CPI(M)-Congress alliance plays out in future. Will it succeed in eroding TMC's present base among Muslims and tribals? Will it be able to step up its role as an active Opposition, capable of mounting a serious challenge to Mamata in the coming days? Equally, the Rashtriya Swayamsevak Sangh (RSS), which has been a long- distance runner in the State, may be emboldened with its increased vote share and seat tally, to strike a more aggressive posture in countering the TMC.

Edited by Anna Verghese

More in Catch:

The bare truth: mass nude photographer set to expose Trump's politics

Referendum on Modi or Congress-mukt Bharat? What the poll results mean for India

India's shame: Bundelkhand woman eats mud for 12 years to survive

Fake lawyers: crooks in black coats face Supreme Court crackdown