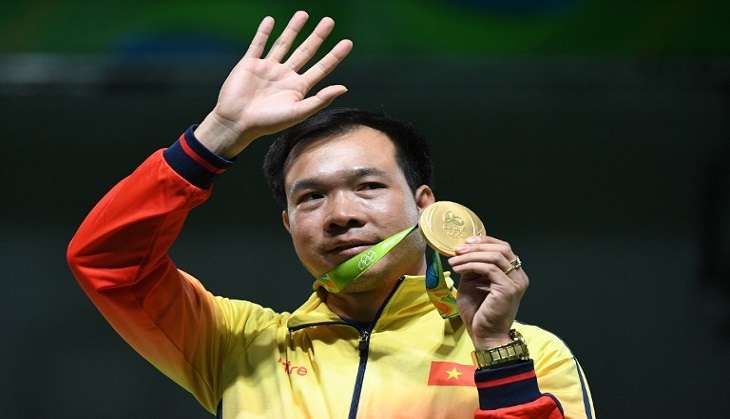 In the men's 10m Air Pistol event, the Indians disappointed. Gurpreet Singh didn't qualify for the final and Jitu Rai was the first to be eliminated in the final round. While India didn't have anything to celebrate, Vietnamese did. Vietnam edged Rio Games hosts Brazil in a thrilling final to take their first ever shooting medal.
of Vietnam narrowly beat Brazil's Felipe Almeida Wu.
Vinh last competed at the London Olympics in 2012 that ended in heartbreak. VInh had failed to make the finals by a single point. In the 50m air pistol event, he lost out to third place by just 0.1 points.
Vinh, 41, could be seen celebrating among his coaches after his near-perfect final short helped him clinch the gold medal. Sao Paulo-born Felipe Almeida had taken the lead after the penultimate shot. In the end though, Vinh's score of 202.5 meant he claimed the title against crowd favorite Wu, 20 years his junior. Wu was just .3 points adrift.
Meanwhile, the Bronze medal went to Pang Wei of China. The major shock of the day came with Jin Jongoh's lacklustre and uninspiring performance. The world's best shooter, Jongoh, struggled throughout the final round to end in a disappointing fifth place. Jin failed to replicate the heroics he produced at London 2012. Jin does have the 50m pistol gold to redeem himself.
Nepalese-born India Jitu Rai was the first of the eight finalists to be knocked out. Following him was Vladimir Gontcharov of Russia. Then Italy's Vladimir Gontcharov, Jin and
The first of the eight finalists to be knocked out was the Nepalese-born Indian Jitu Rai. Russia's representative Vladimir Gontcharov was next for the chop, followed by Italy's Giuseppe Giordano.
Wu may have had the crowd screaming and leaping out of their seats when he took the lead in the penultimate shot. Vinh though, held his composure, took his time and produce a title winning final shot to beat Wu to the gold medal.