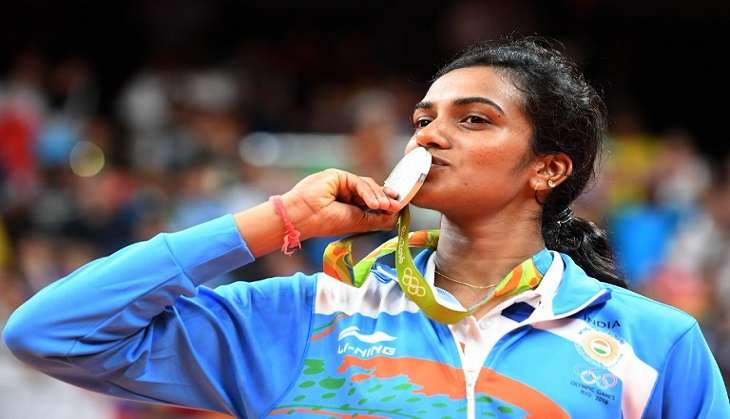 Pusarla Venkata Sindhu, in her maiden Olympics singles final, threw everything she had at her opponent but unfortunately came out on the losing side. Spain's Carolina Marin and the world's no. 1 player in the world, came up trumps in a tightly fought three-game contest in the women's badminton singles final at the Rio Oylmpics. Marin, known as the "Rafael Nadal"of badminton in Spain closed out the match 21-19, 12-21, 15-21. The final lasted an hour and 23 minutes at the Riocentre.
Sindhu gave it her all, point after point, she pushed her Spanish opponent to the limit. This showed in the 21-19 win in the first game. Luck reversed in the second game as Sindhu couldn't keep up with Marin's high octane level. Maybe it was nerves, or maybe it was inexperience at the top of the game, Marin outclassed the Indian 11-21 with her smash doing wonders. The crowd was pretty even, Marin's shrieks were prety loud and the game was going into the deciding third game.
The ruthless 23-year-old let out loud pulsating shrieks every time she won a point and in the third set, that was a tad too often. She never let a tiring Sindhu back into the match. She charged ahead to a 6-1 lead. Sindhu fought back well, taking inspiration from Sakshi Malik's comeback victories and tied the score at 10-10. It was then that Marin showed her class and endurance and grabbed six match points, eventually taking the set 15-21. The Spaniards on the terrace were absolutely ecstatic as twice world champion Marin pumped her fists in the air and screamed in triumph.
India's Pusarla V. Sindhu returns against Spain's Carolina Marin during their women's singles Gold Medal badminton match at the Riocentro stadium in Rio de Janeiro on 19 August, 2016. (Goh Chai Hin/AFP)
Sindhu showed the true mark of a sportsmanship when she went across the net, lifted Marin up to her feet, and embraced her, congratulating her on her victory. On her way back to her coach Pullela Gopichand, Sindhu picked up Marin's racket, that the Spaniard had flung in excitement and put it next to her chair. Sindhu respects the sport and her opponents and it showed as she had the hunger for gold. It was unfortunate that she came across a top-class player in Marin.
Despite the loss, Sindhu made a billion people sit up and take notice of a sport that wasn't cricket.
Spain's Carolina Marin (top) returns against India's Pusarla V. Sindhu during their women's singles Gold Medal badminton match at the Riocentro stadium in Rio de Janeiro on 19 August, 2016. (Emmanuel Dunand/AFP)
Sindhu missed out on being the second ever Indian to have won an individual gold medal at the Olympics, the only one coming from Abhinav Bindra back at the Beijing Olympics in 2008. Sindhu is also the youngest ever individual medallist for India. She may have failed to emulate Bindra but she has done the nation proud. She has earned a place in Olympic history. She's the fifth Indian women to clinch an individual medal in the Olympics. Here's hoping she comes back with another medal at the 2020 Olympics.
Who run the world? Girls.
After Malik's bronze, PV Sindhu brings back silver. The Indian women have quietly come into their own at the the Rio Olympics during the last week of the Games. On Sunday, Dipa Karmakar performed the Produnova vault on her way to a fourth place finish. On Wednesday, it was the turn of Haryanvi wrestler Sakshi Malik to inspire 1.3 billion Indians when she made a series of comebacks, while on the verge of elimination, to defy the odds and grab bronze through the wrestling repechage event.
Finally, on Friday, and now Saturday, Pusarla Venkata Sindhu, or PV Sindhu as people like to call her, has done one better. She's may have lost to her much-fancied opponent from Spain, Carolina Marin, but the silver she is bringing home, represents a brilliant achievement for the young Olympian from Hyderabad.
Spain's Carolina Marin returns against India's Pusarla V. Sindhu during their women's singles Gold Medal badminton match at the Riocentro stadium in Rio de Janeiro on 19 August, 2016, for the Rio 2016 Olympic Games. (Goh Chai Hin/AFP)
Karmakar she was an instant star. Being the first Indian gymnast to qualify in 52 years and the first ever Indian woman gymnast, there was no one to challenge and jostle her for space in the media. Landing the Produnova was one thing, finishing fourth was another. Malik competed alongside Geeta Phogat, Babita Kumari and Vinesh Phogat but with none of them winning a match at the Olympics until Rio, it was once again not difficult to find a place in our hearts. For Sindhu though, battling alongside India's shining star and fellow Hyderabadi Saina Nehwal was a hard task.
Sindhu has been plagued by an injury for a part of her career and had been playing under Nehwal's shadow for a year too many. She had pulled out the prestigious All England Championship last March. She had a stress fracture on her left foot. She was out for about six weeks.
She may have become the first Indian to win the girls' singles title at the Asian Youth Under-19 Championships back in July 2012 but since then, she's been playing second fiddle to Nehwal. She's been working behind the scenes and quietly making her way up the rankings. Even the doubles pairing of Jwala Gutta and Ashwini Ponnappa got more media attention, even though they weren't necessarily playing better.
If you look at her achievements, Sindhu has a storied career. After winning at the Asian Youth Under-19 Championships, she won her maiden Grand Prix gold at the Malaysian Open. Then she won the Macau Open and successfully defended that a year later in 2014 and 2015 to compelte a hat-trick.
She then went on to make more history by winning bronze at the World Championships, becoming the first Indian to do so and the in 2014 she won yet another bronze at the same event. She is the first Indian shuttler to bag two medals at the event.
In 2015, she became the youngest recipient of the Padma Shri, India's fourth-highest civilian honour.
While growing up, she would accompany her father to the volleyball court. While there, she noticed the badminton court nearby and would always run towards it. "I was only eight-and-half years when I started playing badminton near my house in Secunderabad. Mohammed Ali was my first coach," Sindhu recalled.
In all these years, it's been Nehwal who has been hogging the limelight. She's a former world no. 1 player, called to schools and colleges for inspirational talks and is the talk of the media. When Nehwal exited in the groups stages of the Rio Olympics due to injury, more people were focused on that, than on Sindhu's progression.
Take nothing away from Nehwal. If Nehwal wasn't injured, she'd probably have made the semifinals, if not the final. It's worrisome to know that come tomorrow, Nehwal will be having surgery. She's a true champ in her respect and when she performs, she does it with a standard worthy of the best in the world, but right now, it's time for Sindhu to shine.
Sindhu has done a tremendous job beating higher ranked opponents throughout the Olympics.
India's Pusarla V. Sindhu (R) returns against Spain's Carolina Marin during their women's singles Gold Medal badminton match at the Riocentro stadium in Rio de Janeiro on 19 August, 2016. (Emmanuel Dunand/AFP)
It's not that Nehwal hasn't had a storied career of her own. She is the only Indian to have won at least a medal in every BWF major individual event - Olympics, BWF World Championships and BWF World Junior Championships. She was the youngest Asian to win a four-star tournament. Also the first Indian to win a Super Series title.
Under Gopichand and then her new coach, Nehwal shone throughout India quickly becoming the talk of the town. She was conferred the Padma Bhushan, India's third highest civilian award, in 2016 and the Rajiv Gandhi Khel Ratna and Arjuna Award before that.
With Sindhu performing on the biggest stage of them all, and going one better than Nehwal, she has now moved out of her shadow. Sindhu has moved into a league of her own. It'a all about Sindhu now.
Sindhu's defeats of former world no. 1 and London Olympics silver medallist Wang Yihan in the quarterfinals and sixth-ranked opponent from Japan Nozomi Okuhara in the semis, made people sit up and take notice. With this form and the style of play that she has, Sindhu has a solid chance of becoming a top-three player in the world.