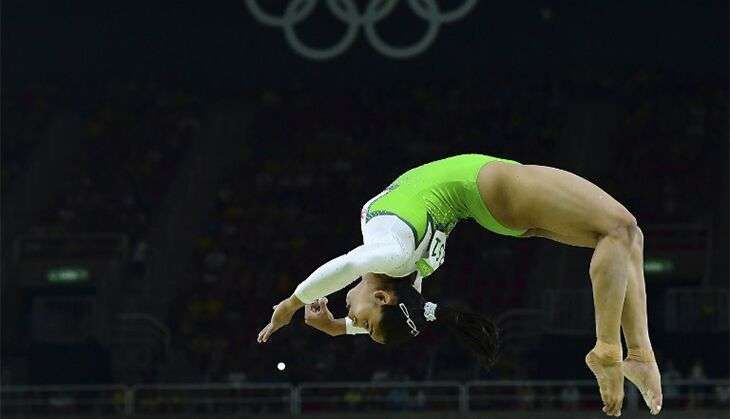 Indian gymnast Dipa Karmakar scripted history by leaping her way into the apparatus final of the artistic gymnastics at the Rio Olympics 2016.
She scored 14.850 points in two vaults in the subdivision three of the vault event and secured the eighth position to seal the final berth.
The 22-year-old gymnast performed the dangerous Produnova in her first vault and scored 15.100 points. She bagged 14.866 points in her second vault, the Tsukahara.
The first ever Indian gymnast to participate in Olympics, Karmakar ended with an overall score of 51.665 points in the all-round competition. At the Glasgow World Championship in 2015, Karmakar clinched the fifth position with 14.683 points.
Interestingly, Karmakar's historic victory comes a day before her 23rd birthday on 9 August.
The finals of the vault competition will take place on 14 August.
Her historical Olympic debut garnered congratulatory tweets from around the world. Here's how Twitter lauded her feat:
Now this is history! #DipaKarmakar in the vault finals. Remember, an Indian woman gymnast hadn't been to the Olympics before! #Pioneer

— Harsha Bhogle (@bhogleharsha) August 8, 2016
Congratulations #DipaKarmakar for creating history by becoming the 1st Indian women to qualify for the vaults finals🙏Good luck👍 #Rio2016

— VVS Laxman (@VVSLaxman281) August 8, 2016
Indian gymnast #DipaKarmakar scripted history as she became1st Indian to make the cut for individual vault finals in her debut #RioOlympics🏅

— Ruchi Shukla (@RuchiKom) August 8, 2016
Many Congratulations to #DipaKarmakar for qualifying for Vaults. Make India Proud. #ArtisticGymnastics #Rio2016 pic.twitter.com/EEkf7kF01m

— Vijay Goel (@VijayGoelBJP) August 8, 2016
Kudos to #DipaKarmakar for being the 1st Indian woman gymnast in the top 8. U r a champion already & v r proud of u! pic.twitter.com/bN7sl4yNSl

— Rajesh Singh (@RajeshSinghOne) August 8, 2016
This is just the beginning
Way to go.......#Proud ✌ All the best👍 #DipaKarmakar

— Shreya Singh 🐛 (@wowShreya) August 8, 2016
#DipaKarmakar becomes first Indian Gymnast to qualify for individual vault finals. History.Already a legend. @Olympics #Rio2016 #Gymnastics

— Srinu Satyam (@SrinuSatyam) August 8, 2016
While Karmakar's achievements left the nation elated, many Indians took to Twitter to slam broadcaster Star Sports for failing to telecast her performances.
Why don't they show #DipaKarmakar? Waiting.....

— Harsha Bhogle (@bhogleharsha) August 7, 2016
T 2341 - #DipaKarmakar .. they said they would show you but never did .. channels interested in the other country athletes ! Good luck

— Amitabh Bachchan (@SrBachchan) August 7, 2016
Just to remind people that the feed comes from the host broadcaster in Rio, Star Sports doesn't control it.

— Harsha Bhogle (@bhogleharsha) August 7, 2016
Go Dipa Karmakar! You're already a winner for us!