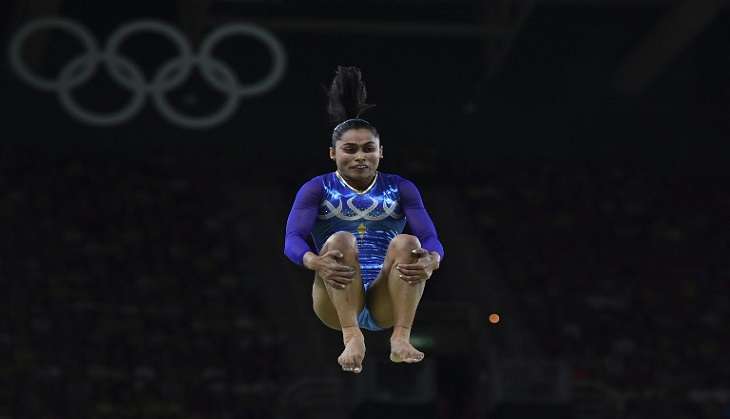 Dipa Karmakar, the first Indian woman gymnast at the Olympics, may not have won a medal, but she definitely won the hearts of many. The gymnast from Tripura was also the first Indian gymnast at the Olympics in 52 long years.
The 23-year-old from Tripura narrowly missed out on a medal, finishing just 0.15 points behind bronze medal winner from Switzerland, Giulia Steingtuber in the women's Artistic Gymnastics Vault finals in Rio de Janeiro on 14 August.
There was no doubt who the gold medallist was going to be, with American Simone Biles smoking the competition in whatever event she takes part in at the Rio Olympics. Biles took the top prize with a final score of 15.966.
The fight was on for the silver and bronze medals. Karmakar put up her best performance ever at an international event. With the Produnova Vault, she made the impossible seem probable. She gave hopes to many a Indian watching her back home.
Rio 2016
Karmakar went up sixth out of the eight competitors. In her first attempt she went for the Tsukahara vault. In the second, it was the Produnova, also referred to as "vault of death". Karmakar was given a score of 14.866 for her first attempt and 15.266 for her second attempt which combined for an average score of 15.066. At that point in the competition, she was in second place. Only for Maria Paseka and Simon Biles, the world's best, to come in next. Both lived up to their sky high expectations. Both finished with scores above 15 on both their attempts.
It was Biles who came out on top with a phenomenal score of 15.966. Russian Maria Paseka claimed silver, far behind, with a score of 15.253. Steingruber of Switzerland claimed bronze medal with a score of 15.253, pushing Karmakar into fourth and out of a place on the podium. Karmakar was the only competitor with a score of 15 or more who was not standing on the podium during the medal ceremony. She may not be an Olympic medal winner, but she is a national hero. At the age of 23, Karmakar has at least two more Olympics left in her, if not more.