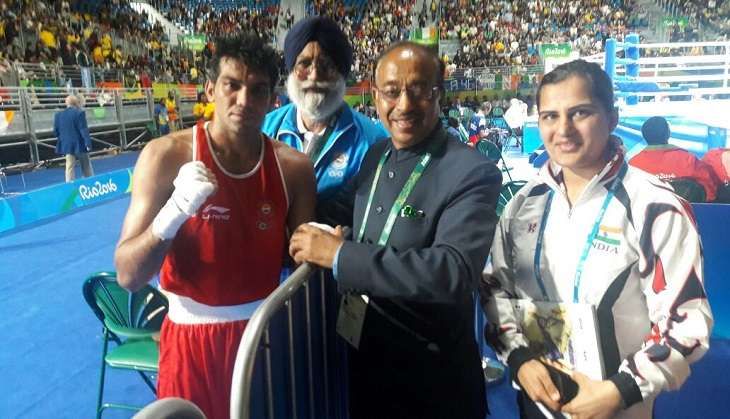 Manoj Kumar, a 2010 Commonwealth Games gold medallist, stunned 2012 London Olympics bronze medallist Evaldas Petrauskas in a fiercely-contested opening bout on Wednesday, 10 August. Kumar advanced to the pre-quarterfinals of the Rio Games. Manoj prevailed 2-1 in the hard-fought battle, holding his ground against the intense aggression displayed by Lithuanian Petrauskas in all three rounds.
Kumar will next face fifth seed Uzbek Fazliddin Gaibnazarov in the pre-quarters scheduled on Sunday, 14 August.
Evenly-matched on pace and agility, the two boxers were quite distinct in their attacking approach. While Petrauskas aggressively tried to engage the Indian from close range, Manoj preferred to back-peddle and hit from a distance.
At the end of the opening three minutes, it was Manoj's tactics that found favour with the judges, who awarded the first round Kumar on a split decision. In the second round too, Petrauskas was the more aggressive of the two but Manoj managed to stave off the challenge by sticking to his strategy of keeping a distance and hitting occasional uppercuts to the Lithuanian's body.
In the last and final round, none of the boxers were in any mood to change their tactics and outfox their opponent. Last minute attacks by Petrauskas did unnerve Kumar a little towards the end but didn't deter him. Petrauskas secured the final round but it was a little too late as the bout was scored in favour of Kumar.
Manoj joined 7th seed Vikas Krishan (75kg) as the second Indian in the pre-quarters. Tomorrow, Shiva Thapa will open his campaign in the bantamweight (56kg) category. Having made his second successive pre-quarters in the Olympics, Kumar told PTI that it's his hard work that has showed him the way. "Hard punch is not God's gift, you're dead if it hits your chin. It's the result of my 20 years' struggle that has given me the result," Kumar said. "Nothing is god-gifted, it's my hard work that helped me."
He added, "you get height advantage but he also had powerful punches. You have to fight accordingly. There's hardly any time to think inside the ring. I played according to his punches. I knew he would be tough."
- With inputs from PTI