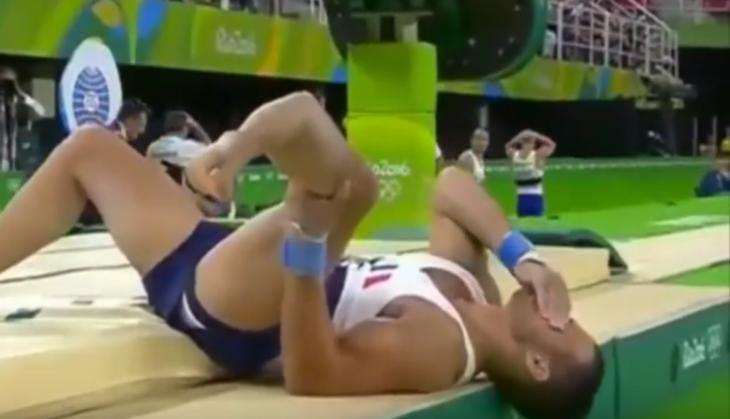 French gymnast Samir Ait Said registered the first horrific accident of the 2016 Rio Games, which ended his 2016 Games campaign. The stadium went into utter silence, as his accident caught everybody off-guard. Said severely broke his leg while landing on a vault.
Said's lower half of his shin dangled in the opposite direction of the rest of his leg as he tried to complete his vault during the teams' preliminaries on 6 August - sound of which echoed throughout the stadium. According to reports, the French gymnastics federation said the 26-year-old broke both his tibia and fibia. Several minutes later, Said was wheeled out on a stretcher as he waved his hand at the crowd to which the crowd responded with a standing ovation.
Samir Ait Said's leg is literally hanging off after that vault oh my god I heard the crack and everything

— Abigail (@abigail_abt) August 6, 2016
Said was due to perform in the men's parallel bars, the individual all-around, the team all-around, floor exercise, rings, and the pommel horse.
The 26-year-old won gold on the rings at 2013 European Championships and silver for the same in 2015. However, German Andreas Toba Kurt hurt his knee during floor exercises earlier in the night. Toba abandoned his routine and was helped off by trainers but managed to compete on pommel horse before exiting to receive medical attention.
French gymnast Samir Ait Said will now be remembered alongside Joe Theismann and Kevin Ware.
Joe Theismann, an NFL player, had suffered an open fracture in 1985. The fibula -- the long, thin outer bone running between the knee and ankle -- broke through his skin.
Kevin Ware, a basketball player, in 2013, landed awkwardly after attempting to block a three-point shot and suffered a compound fracture to his right leg which protruded several inches out of his shin
USAtoday quoted French team leader Corrine Moustard-Callon as saying, "We will do more exams to see if it is just the bone."
French teammate Cyril Tommasone commenting on the accident said, "It was very difficult, very emotional. It's very hard for the French and for him. It's very, very difficult, but we wanted to finish the competition for him and for us."
Watch the video here: