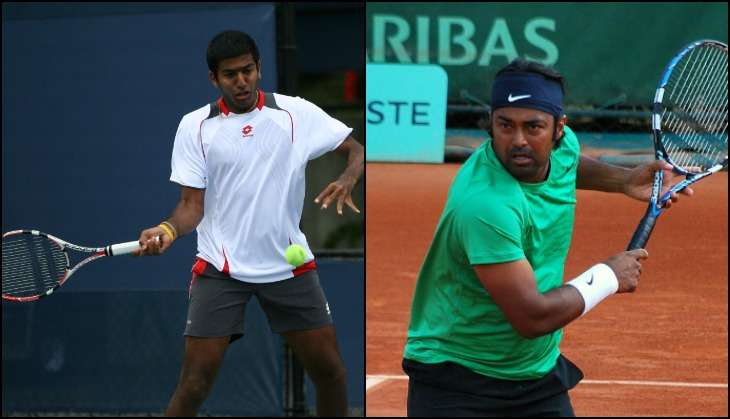 With just two days to go for the Indian tennis team to start its 2016 Rio Olympics campaign, Leander Paes is missing. He is yet to arrive in the city to start practicing with his men's double partner, Rohan Bopanna.
According to media reports, Paes has informed the Indian Olympic Association that he does not to want to share a flat with his partner Bopanna at the Olympic village. The two till now haven't come on the same page, as Bopanna preferred Saketh Myneni as his doubles partner, but AITA ruled in favour of Paes.
Paes was also ignored by Sania Mirza, as she chose Bopanna as her mixed doubles partner.
Apart from Paes, the entire Indian contingent reached Rio on 1 August. However, according to a report in News18, Paes' father has said that he will be reaching Rio this evening.
As Bopanna, Sania Mirza and Prarthana Thombare prepare for their Olympic campaign, Paes and Bopanna are yet to practice together for their men's doubles encounter, which is scheduled for 6 August.
Zeeshan Ali, who is serving as a coach, said that he is "in the dark" about Paes' whereabouts and that the team is suffering due to his absence.
"As captain, obviously I would have wanted all the players to have been here to get used to the conditions and to get used to the courts. It is a tough situation right now with Rohan having to find people to practice with. We've got players from the other countries who are all practicing together and unfortunately Rohan is having to find people to practice with and that's not exactly the way we would have liked to prepare for the tournament," ESPN quoted Ali as saying.
Commenting on Paes' absence, Boppana said, "I think you should ask the captain, the captain is the one who tells me when he's here or not... It is not in my hands to do anything about it. I can only be prepared once my partner is here. Right now Sania is here, I am practicing as much as I can with her and take it from there," ESPN quoted him.