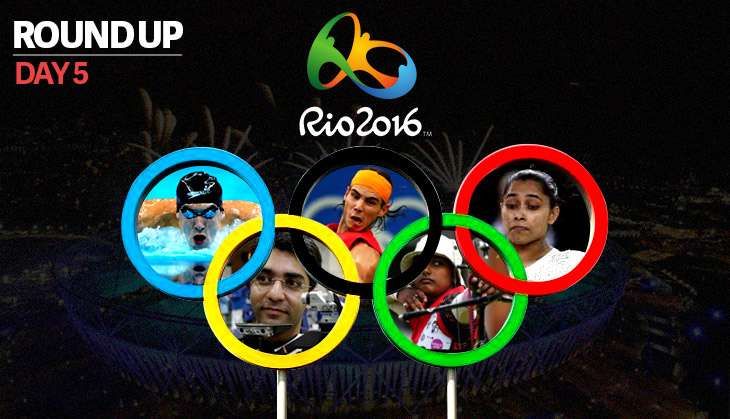 After Day 4, where Indians impressed in four out of the five competitions they participated in, Day 5 was a mixed bag. Six events, and in only two did Indians impress.
Indians may not have a medal yet, but the world did get its first-ever \'Independent Olympic Athlete\' gold medallist. Katie Ledecky is still dominating in the swimming pool, and you better have heard of Kristin Armstrong after today. That and more in our daily roundup, starting with the Indians:
India's lone judoka, Avtar Singh, took on the Refugee Olympic Team's Popole Misenga in the Men's 90 kg Round of 32, and never looked like having the upper hand during the match. Not much can be said about the match, where Avtar was penalised twice for being too defensive and just couldn't get any momentum.
Popole then lost in the Round of 16, and this meant that Avtar wouldn't be in the repechage competition, ending any hopes of a medal.
With a draw against Japan and a 0-3 loss to Great Britain, things didn't look great as India took on Australia in their third Group B clash. By the end of the match, the scorecard read 6-1 in favour of the Australians.
The match was one-sided from the whistle. India's lone goal came with just 8.3 seconds left on the clock. It was the only real attack that the team strung together.
With this loss, India are now bottom of Pool B and only a miracle will take them out of the group stages. They next take on Argentina and United States, both obviously must-win matches.
03
Sathish Sivalingam (weightlifting)
They say that if you don't up your game on the world's greatest stage, then you have no chance of finishing with a medal. That's exactly what happened to Sathish Sivalingam on Day 5 of the Rio Olympics.
Sivalingam lifted a combined total of 329kg - 148 kg in snatch and 181 in clean and jerk - seven kg below his personal best and the national record of 336 kg. With this, India's weightlifting campaign at the Games has come to an end.
04
Jitu Rai and PN Prakash (shooting)
Prior to the Games, shooting was considered the biggest medal prospect for the Indian athletes with a host of talented names - Jitu Rai, Heena Sidhu and Abhinav Bindra - taking part.
It's Day 5 of the Rio Games, and already, many of them have crashed out.
On Wednesday, Rai and PN Prakash competed in the 50m pistol competition. Hopes were pinned on Rai as this was his pet event. He seemed to be in the mix for a place in the final, but a last series score of 88 meant he could only finish 12th. For Nanjappa, his score of 547 was only good for 25th place.
After Vikas Krishan Yadav, it was the turn of Manoj Kumar to get inside the ring. He was up against London Olympics bronze medallist Evaldas Petrauskas.
The odds were stacked but Kumar did what he does best. He outboxed his opponent 2-1 to advance to the pre-quarters.
It was a hard fought battle, the late offencee by the Lithuanian notwithstanding.
Kumar will next face fifth-seeded Uzbek Fazliddin Gaibnazarov in the pre-quarters scheduled on Sunday, 14 August.
Congratulations to Manoj Kumar for the great fight. Wished him all the best for his next bout. #boxing #KheloIndia pic.twitter.com/b0lwnpmSQc

— Vijay Goel (@VijayGoelBJP) August 11, 2016
06
Deepika Kumari and Bombayala Devi (archery)
Both Deepika Kumari and Bombayala Devi impressed in their Round of 32 and Round of 16 matches. During the 1/32 and 1/16 elimination matches, Bombayla dished out dominating performances to get the better of Austria's Laurence Baldauff and Chinese Taipei's Lin Shih-Chia.
Deepika was even more impressive, considering her poor performance in the team event. She overcame Georgia's Kritstine Esebua 6-4 in the 1/32 elimination round and Italy's Sartori Guendalina 6-2 in the 1/16 elimination round. In fact, Deepika was on point for most of the match, hitting may perfect 10s to defeat her opponents.
There was rain and there was lots of it in Rio de Janeiro on Wednesday. So much so that the entire tennis schedule - consisting of 25 matches - was washed out. Sania Mirza and Rohan Bopanna, competing in the mixed doubles, were to take on Samantha Stosur and John Peers of Australia. That match was postponed to Friday, 12 August (12 AM).
That was that for the Indians on Day 5. Here's everything else that happened at the Rio Olympics:
08
First independent Olympic champion
Fehaid Al Deehani has become the first-ever independent Olympic champion! Al Deehani won gold in the men's double trap, becoming the first independent Olympic athlete to win a medal.
As Kuwait's national Olympic committee has been suspended, Al Deehani had to compete under the Olympic flag.
Al Deehani has represented Kuwait in the past five Olympics. He did two spots better than at London 2012, where he had won the bronze medal.
GOLD for an Independent Olympic Athlete, the first of all time! Fehaid Al-Deehani from Kuwait wins men's double trap under the Olympic flag.

— Rodger Sherman (@rodger_sherman) August 10, 2016
09
Great Britain claims first ever diving gold
Jack Laugher and Chris Mears wrote their names in the history books on Wednesday at the Rio Olympics. They became Great Britain's first ever Olympic diving champions. They won gold in the synchronised 3m springboard.
They upset world champions China, taking the lead in the third round and holding it till the very end. They finished ahead of USA duo Sam Dorman and Mike Hixon, while Chinese pair Cao Yuan and Qin Kai took bronze.
Incredible accuracy #diving pic.twitter.com/sZXqcmuMTB

— Joe Cox (@JosephCox) August 10, 2016
10
New Zealand upset again in Rugby Sevens
After their stunning loss to Japan, New Zealand were once again defeated by Fiji. This result meant that they would be going home from Rio de Janeiro without a Rugby Sevens medal.
Fiji beat New Zealand 12-7 to secure a semi-final berth ahead of the 'All Blacks'. They will now take on Japan, who continue their remarkable run in the competition.
11
Argentina out of football
Honduras have ousted Argentina from the football competition. Argentina, gold medallists at Athens in 2004 and Beijing in 2008, have been eliminated from the competition after limbering to a 1-1 draw against Honduras, who have advanced to the quarter-finals.
London Olympics champions Mexico have also been dumped out of the competition after losing 1-0 to the Republic of Korea.
12
Water polo pool also turns green
Rio's Olympic water polo pool has now turned green. This comes after the adjacent diving pool left the organisers red-faced as the water turned green.
Organisers have blamed heavy rain diluting the chemicals for the change in colour. They insisted that there is "absolutely no risk" to the athletes. "The reason for the unusual water colour observed during the Rio 2016 diving competitions is that the water tanks ran out of some of the chemicals used in the water treatment process," the international swimming federation (FINA) said.
"As a result, the pH level of the water was outside the usual range, causing the discolouration."
If you can't fix the diving pool just get waterpolo to match... #Rio2016 pic.twitter.com/RCUkdWXQvp

— Vassos Alexander (@VassosA) August 10, 2016
13
Katie Ledecky (swimming)
Is there anyone who can stop American Katie Ledecky? She picked up her third gold medal of the Games when she led the USA to gold in the 4x200m freestyle relay.
What's more is that the USA have won five out of six gold medals since this relay became a part of the program at the 1996 Olympics.
When Katie Ledecky started her anchor leg in 4 x 200 freestyle, the U.S. was trailing by 0.89 seconds. They won the race by 1.84 seconds

— ESPN Stats & Info (@ESPNStatsInfo) August 11, 2016
14
Kristin Armstrong (cycling)
Have you heard of Kristin Armstrong? Well, a lot of people hadn't before the Games. After her record-breaking third straight gold medal in the Olympic time trial, many have.
She joined speed skater Bonnie Blair as the only American women to win three gold medals in the same event at any Olympic Games. Her timing of 44 minutes 26.42 seconds, was 5.55s ahead of second place Olga Zabelinskaya of Russia.
Kristin Armstrong is 7 years older than any other rider in either men's or women's TT fields. I like her style. #Rio2016

— Michael Hutchinson (@Doctor_Hutch) August 10, 2016