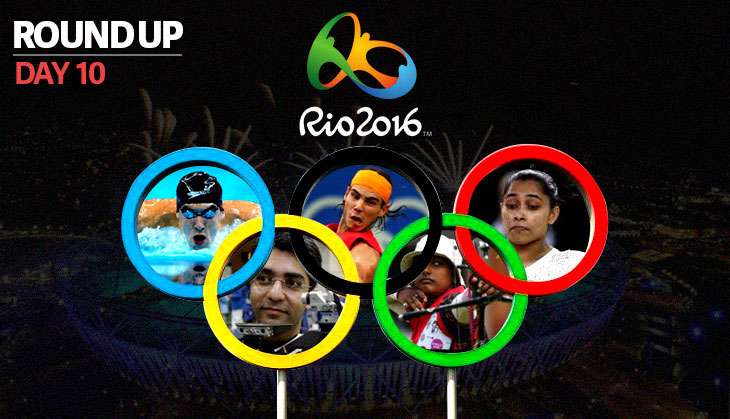 Questions like, \'can anyone win a medal for India at the Rio Games\' or \'who can win a medal for India now\' still ring through as the medal-less country continues competing through Day 10 of the Olympics.
Monday, 15 August, India\'s independence day, was another one of those mixed bags, a word synonymous with the athletes in Rio. Lalita Babar and the shuttlers impressed, while all the track and field athletes who took part on Day 10 failed to perform at their best and hence couldn\'t qualify for the finals. There are glimmer of hopes still flickering inside the Indian camp.
We know that footballers occasionally dive. Did you know that runners also dive? Well, it happened on the line in the 400m race! An athlete successfully defended his 800m Olympic title and a rare slip up by American sensation Simone Biles cost her a record she so dearly wanted. All this and more in our daily wrap-up:
01
Renjith Maheshwary, Srabani Nanda, Seema Punia (triple jump, 200m, discus throw)
Renjith Maheshwary, Srabani Nanda and Seema Punia competed in three separate track and field events at the Rio Olympics on Monday, 15 August. None of them were close to their personal bests and none of them qualified for the finals in a disappointing day for Indian athletics.
Maheshwary failed to replicate his personal best of 17.30m in the triple jump. He finished 30th out of 48 participants at the Olympic Stadium. His best jump was 16.13m.
Srabani Nanda took part in the 200m heats. Nanda finishes sixth in her heat with a timing of 23.58s, finishing 55th out of 72 sprinters.
Seema Punia finished ninth in Group B of qualifying with a best throw of 57.58m. She fell way behind her personal best of 62.62m. This is her third Olympics and in all three she has crashed out at the qualifying stage.
02
PV Sindhu and Kidambi Srikanth (bamdinton)
PV Sindhu and Kidambi Srikanth have kept the flag flying high at the Olympics. In what's been a disappointing Games for Indian athletes, Sindhu and Srikanth's win in their pre-quarterfinal matches has been impressive. Srikanth became only the second Indian, after Parupalli Kashyap to reach the quarterfinals stage of the Olympics.
Srikanth dished out an aggressive performance to defeat World no. 5 Jan O Jorgensen 21-19, 21-19 in a 42-minute battle. He now faces two-time defending Olympic champion from China, Lin Dan. What gives us hope is that Srikanth has defeated the world no. 1 player before.
Such an exhilarating performance from Kidambi Srikanth. Good to see an upset with an Indian on the right side!

— Harsha Bhogle (@bhogleharsha) August 15, 2016
PV Sindhu, the other shuttler left, was in even more impressive form. She took down eighth-seed Tai Tzu Ying of Chinese Taipei in straights sets 21-13, 21-15. She will next take on Wang Yihan of China.
03
Ravinder Khatri (Greco-Roman)
India's wrestling campaign got off to the worst possible start when Ravinder Khatri crashed out 0-9 in the first round to Hungary's Viktor Lorincz. Khatri had gotten a berth for the Olympics as rival Kenzheev Zhanarbek of Kyrgyzstan failed a dope test in the Asian Olympic qualifier in Kazakhstan. This is the first time that two Indian Greco-Roman wrestlers have secured Olympic quotas after the 2004 Athens Games. Hardeep Singh is the other Indian wrestler in the fray.
The last Indian boxer, Vikas Krishan, was knocked out in the quarterfinals. Thus ended India's hope of a medal in boxing. This is the first time in eight years that India's boxing contingent will be returning home from an Olympic Games empty handed. Krishan lost to second seed Bektemir Melikuziev of Uzbekistan in the 75kg category by a unanimous 3-0 decision.
#VikasKrishan you have done your level best against the Uzbek. Tough fight hard luck.

— Suraj Hegde (@SurajMNHegde) August 16, 2016
Not many Indians participated on Day 10 but the outlook isn't looking good for the rest of the final week. Here's what else happened at the Games on Day 10:
Kenyan David Rudisha is undoubtedly the best 800m runner in the world. He may not have led from the gun - that award goes to Alfred Kipketer of Kenya who led after lap one with a blistering pace of 49.23s - but he kept his calm and composer to win the race with a timing of 1 minute 42.15 seconds. In doing so, he became the first man since New Zealand's Peter Snell to defend his title in the 800m. Ever since winning the 800m race in a world record time at the London Olympics, Rudisha hasn't looked back and has dominated the race like no other.
Third straight win by Kenya in the men's 800 meters. Wilfred Bungei (2008); David Rudisha (2012); David Rudisha (2016) #Rio2016

— Chris Chavez (@ChrisChavez) August 16, 2016
What a finish to a race it was! Bahams' Shaunae Miller beat out favourite American Allyson Felix with a dive across the line in a dramatic photo-finish at the Rio Olympics on Monday. In a totally legal move, Miller dived and her torso made it across the finish line first. She beat out Felix by 0.07 seconds to win the gold medal. Watching the race in real time, it felt like Felix had done enough in the last 100m to win the race. Felix got her whole body across the finish line first but only won the silver. Why? This was because Miller's chest crossed the line first. If Miller had stayed upright, the gold would have gone to Felix. This isn't the first time someone dived across the line at these Games and in not the last we've seen of it.
#Rio2016: Bahamas' Shaunae Miller dives to win 400m! Allyson Felix came in second in a dramatic photo-finish. pic.twitter.com/1lY3rFQ87y

— Sahil Bhalla (@IMSahilBhalla) August 16, 2016
07
Simone Biles (gymnastics)
A rare slip-up by American sensation Simone Biles cost her a record. As she stood on the lowest platform of the podium, the flum face said it all. She had not won a gold on the balance beam, instead a bronze. She was hoping to become the first ever female gymnast to win five golds at a single Olympics. Her hopes came crashing down thanks to a split-second wobble on a four-inch wide block of wood. Dutchwoman Sanne Wevers won the most unexpected gold of these Games thanks to that mistake.
Let's be clear: Even without BB gold, what @Simone_Biles doing in Rio is spectacular. No US woman has three golds in single Games.

— Nancy Armour (@nrarmour) August 15, 2016
08
Mark Cavendish (cycling)
Great Britain's Mark Cavendish won silver in the men's omnium after having missed out on a medal in his previous two Games. Italy's Elia Viviani took home the gold. Defending champion Lasse Hansen of Denmark had to settle for bronze. Cavendish told BBC, "I have got my Olympic medal. It is really nice but gold would have finished the collection. I don't think I'll be going for Tokyo but you never know".
There was some controversy during the race as Cavendish was involved in a crash that left Sanghoon Park in hospital. Cavendish inadvertently crashed into gold medal rival Viviani in the omnium-ending points race. The crash badly injured the Korean rider, who was rushed to the hospital in a neck brace and an oxygen mask clamped to his face. In the end, there was no disciplinary action against Cavendish.
There were protests and calls for Cavendish to be disqualified for deliberately causing the crash and it seems like that may be the case, though there is no official word.
09
David Katoatau (weightlifting)
David Katoatau of Kiribati lost his family's house in a cyclone. On Monday, at the Rio Olympics, he danced off the stage to raise awareness of the threat that climate change poses to his remote island nation. Naturally, Katoatau got the loudest cheers, even surpassing the Brazilian lifter. The dance isn't new though. It's his signature trademark. It came to the forefront two years ago during the Commonwealth Games in Glasgow, where he won Kiribati's first ever gold medal in any global sporting event. Katoatau came sixth in Group B with 349kg. This was 1kg more than his Commonwealth Games winning effort.
10
Stefan Henze (German canoe coach)
The coach of Germany's canoe slalom team, Stefan Henze, died from head injuries sustained in a car crash last week in Rio de Janeiro. Henze was traveling with a team-mate in a taxi to the athletes' village early on Friday. He was in the Barra de Tijuca neighbourhood when the car crashed into a concrete barrier. Teammate Christian Kaeding suffered minor injuries and was later released from hospital. The 35-year-old 2004 Olympic silver medallist had emergency surgery and was put into intensive care.
11
Seven injured at the Olympic Park
Seven people suffered minor injuries on Monday afternoon when an aerial camera and its cables fell about 65 feet. Those injured were given first aid at the site and the injuries were described as "light".