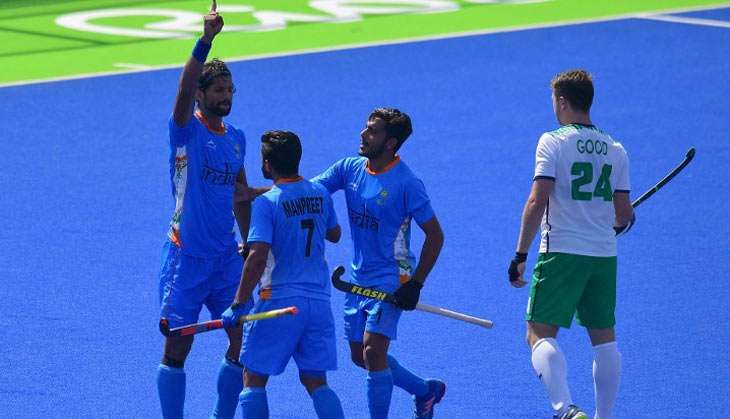 Day 1 at the Rio Olympics saw drama not just on the field but off the field as well. 26 medals were given out on the first day, with teenager Virginia Thrasher snagging the first gold of the Games. She won the gold medal in the women's 10m air rifle event. Early on during the day there was a shock development regarding the Russian Paralympic athletes and there was a controlled explosion.
As far as India is concerned, except for rowing and a scrappy men's hockey victory, Day 1 (6 August) wasn't very fruitful. Here's a summary:
1. Dattu Baban Bhokanal (rowing)
The Indian campaign at the 2016 Olympic Games got off to a promising start when rower Dattu Bhokanal of Maharashtra, qualified for the quarterfinals of the men's single sculls event. 25-year-old Bhokanal is India's sole rower to qualify for the Games. He put up an impressive timing of 7:21.67s in the 2000m race to finish third in his heat.
2. Women shooters
India's Apurvi Chandela and Ayonika Paul had a huge weight on their shoulders. To follow in the footsteps of India's flagbearer and sole shooting gold medal winner, Abhinav Bindra. Unfortunately, the two had a forgetful debut at the Games.
Chandela finished with a score of 411.6 points in 10 metres air rifle, placing 34th. Paul managed an even lower 403 that put her at the 47th spot in the qualification round. Earlier this year, Chandela broke Chinese Olympic gold medallist Yi Siling's world record 211 by .02 points. But in Brazil, she couldn't seem to replicate her form.
3. Indian men's hockey
A lot was riding on the shoulders of the men's hockey team. India hadn't won an Olympic match in the sport for 12 years. Their 3-2 victory over debutants Ireland didn't come easy. There were several moments where it looked like the Irish would comeback and hold India to a draw - in the last three minutes they even withdrew their keeper for 11 attackers - but in the end, it wasn't to be.
4. Leander Paes and Rohan Bopanna (tennis)
After all the drama, all the fighting, the late arrival of Leander Paes, the Indian pair bowed out in straight sets in the first round at the Rio Olympic Games. The pairing of Leander Paes (in his seventh Olympic) and Rohan Bopanna (who will also be seen in the mixed doubles) lost in straight sets to the Polish pair of Marcin Matkowski and Lukasz Kubot 4-6 6-7 (6-8). The match lasted just 84 minutes.
5. Men's shooting
After Chandela and Paul failed to sparkle for India, it was the turn of the men - Jitu Rai and Gurpreet Singh. Again at the 10m air pistol event. While Rai managed to scrape through to the finals, he was the first eliminated and never really looked like challenging for the medals. He finished eighth. Singh didn't go past the qualifiers.
6. Women paddlers
It is the first time that four Indian paddlers have qualified for the Games. Two of them are women - Manika Batra and Mouma Das. Both lost their first round matches to higher ranked opponents. World No. 150 Das lost to world No. 58 Daniela Dodean Monteiro of Romania 2-11, 7-11, 7-11, 3-11. Batra put up a spirited performance but came short 2-4 against Polish opponent Katarzyna FrancnGrzybowska. The final scorecard their read: 12-10 6-11 12-14 11-8 4-11 12-14.
7. Men's table tennis
Both Sharath Kamal and Soumyajit Ghosh lost their first round matches 1-4. Ghosh lost to left-handed Padasak Tanviriyavechakul, 11-8 11-6 12-14 11-6 13-11 while Kamal lost to Crisan Adrian of Romania, 11-8 14-12 9-11 11-6 11-8. None of them put up a fight worth watching.
8. Mirabai Chanu (weightlifting)
Some predicted an Olympic bronze. Many said she had a "very good" chance of fighting for a medal. It wasn't to be as she finished the 48kg weight class event without an aggregate score as she failed in all three attempts in the clean & jerk section. She ultimately finished 11th of 12 participants.
9. Sania Mirza - Prarthana Thombare (tennis)
The pairing fought tooth and nail till the end against China's Shuai Peng-Shuai Zhang. The match was a three-set thriller. The scorecard in the end read, 6-7, 7-5, 5-7, in favour of the Chinese. Mirza-Thombare were serving for the first set, but lost it. Then they served for the second at 5-4 but ended up only winning it 7-5. In the third also, they lead 4-3 at one stage. That valiant effort is for naught. While a medal wasn't likely, at least a first round win was expected. All eyes will be on the mixed doubles now, where Sania Mirza will be partnering with Rohan Bopana
While you're now caught up with all that happened with the Indians, here's a look at wheat else went down on Day 1 of the Rio Olympic Games:
10. Virginia Thrasher (shooter)
The honour and pride of winning the first gold medal at the Games went to teenager Virginia Thrasher of the United States. All of 19 years of age, Thrasher edged out China's Du Li with an Olympic record score of 208 in the 10m air rifle event. Thrasher's cumulative score of 208.0 was enough to beat two-time gold medalist Du by a point. 2012 Olympic champion, China's Yi Siling clinched the bronze medal.
11. Adam Peaty (swimming)
Great Britain's Adam Peaty has many reasons to smile. During the heats of 100m breaststroke, Peaty set a new world record. He improved upon his own time to win his heat with a timing of 57.55s. What's even more striking is that the last time a British man won an Olympic swimming goal was way back in 1988. In the semi-finals, Peaty again impressed, this time with the second fastest time ever of 57.62. Only 21 years of age, Peaty is the man to watch out for when the 100m breakstroke finals come around.
12. Katinka Hosszu (swimming)
Another event in the pool. Another world record. This time it was the 400 Individual Medley. Hungarian star Katinka Hosszu - known as the Iron Lady - dominated the 400-meter individual medley event by smashing the world record. Hosszu's timing of 4:26.36 was easily ahead of anyone else in the pool. Hosszu shattered Ye Shiwen's infamous 400 IM WR of 4:28.43 set four years ago.
13. Samir Ait Said (gymnastics)
Landing wrong can cost you. For Samir Ait Said that's what happened on Day 1. French gymnast Ait Said suffered a gruesome leg injury during his vault attempt. Upon landing, his leg snapped in the wrong direction. When he landed, there was a loud snap. He then left on a stretcher.
14. Yusra Mardini (swimming)
Yusra Mardini is an inspiration to all. Over a year ago, she helped save 20 people fleeing from Syria to Greece by "pushing their boat for three hours to prevent it from capsising". At the Rio Olympics on Saturday, Mardini won her 100-meter butterfly heat for the first-ever Olympic Reufugee Team. A historic moment indeed.
15. Kirsten Flipkens (tennis)
Belgiums' Kirsten Flipkens fights off fifth-seeded American Venus Williams in an Olympic thriller. 30-year-old Flipkens was having fun, more than caring about the outcome of the match. As the match went on, Flipkens game kept improving. In the deciding set, Flipkens was 3-5 down and two points away from elimination. She fought back for a pulsating 4-6, 6-3, 7-6 (5) victory. The match went on for three hours and 13 minutes.
"I was already thinking in the third set I felt it was like one of the most epic matches I played in my career," Flipkens told Bravo Network's Trenni Kusnierek afterward. "I didn't even dream this. My dream was to come to Rio, but to beat one of the greatest champions in history on center court in Olympics is more than a dream come true."
16. Drama at equestrian venue
First up there was drama at the equestrian venue. A bullet was unintentionally fired. No one was hurt. The bullet entered the press conference work room at the Equestrian Venue at Deodoro in Rio and landed on the floor.
17. Controlled explosion
A controlled explosion - carried out by bomb disposal experts - took place near the finish line of the men's road race. Some reports say that a number of controlled explosions took place across Rio on Saturday, 6 August.
18. Russian Paralympic Athletes banned
Last but not least, there was major news regarding the Paralympic Games. All Russian Paralympic athletes have been baned for competing at the upcoming Games in Rio. This is after revaltions of widespread state-sanctioned doping. The final decision will be announced by the International Paralympic Committee (IPC) on Sunday, 7 August.