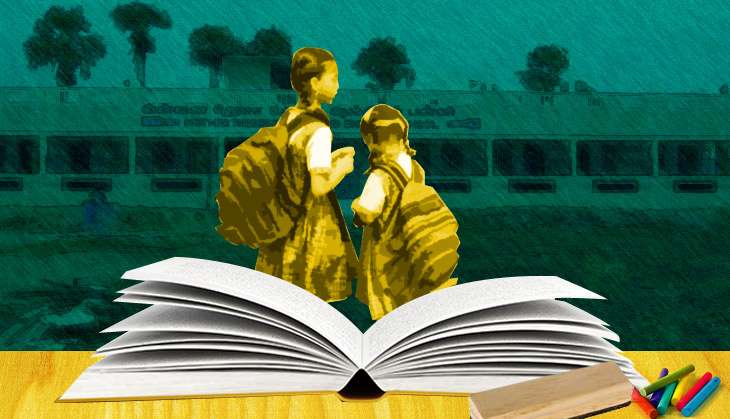 Should primary school students be subjected to the ignominy of failing their exams? The contentious question is back in the discussion after the Subramanian Committee recently submitted its education policy report.
The five-member panel, headed by former chief secretary TSR Subramanian, has recommended that a 'no detention policy' should only be applicable till Class V, and exams should be held from Class VI onwards.
The Right To Education (RTE) prescribes that students up to Class VIII should not be failed in their annual examinations.
The matter is related to future generations, so obviously, eminent academicians must have used their wisdom in arriving at this conclusion. The earlier policy was also formulated after consulting them, and the latest changes will not take place without their consent either. They cannot escape the responsibility by putting the entire blame on the government. The role of the intelligentsia is no less significant in deciding the future of our generations.
However, the main question is a simple one: why are we changing our education policy so frequently?
Tradition that has nurtured talent
The tradition of examinations has existed in India since time immemorial. Centuries ago, our gurus never allowed their pupils to leave gurukuls without proving their skills; even if the student happened to be the reincarnation of god, like Rama or Krishna.
The worthiest of apprentices like Karna and Eklavya were also required to go through rigorous evaluation, which did not discriminate on the basis of class or caste.
The system has withstood the test of time till the present day. All the great men of modern history - from Mahatma Gandhi to Jawaharlal Nehru to Atal Bihari Vajpayee and Narendra Modi, all have reached the pinnacle while coming through the same education pattern.
Also Read: #[email protected]: Dear Rajasthan, don't fail us
Therefore, it is all the more difficult to discern why our governments want to fiddle with the education of our children. Why do they consider present-day students as weak? It seems our leaders are hiding their own incompetence by trying to turn future generations into a shoddy lot. They don't only want them to be physically weak, but also mentally incapable.
Just look at the world around. Indian students are shining everywhere. They have proved their worth in fields as various fields in regions as diverse as the USA, Europe and Africa.
Indian talent has even got US President Barack Obama worried. He has cautioned American students to study hard if they don't want Indians to overtake them.
Politicians in many developed countries, including the USA, are wary of Indian students taking up most of the jobs in their country.
All these students are products of the old education system. Some of them have walked miles to reach their schools during childhood. They were loved and reprimanded, at the same time, by their teachers.
Every year, these students waited eagerly for their annual results. Some of them came out with flying colours, while others failed. Regardless, they would join their classes when the schools opened for the next session. Nobody talked about their travails or rights in those times.
Changing role of teachers
Sometimes, an old-fashioned masterjee would slap a student. But, instead of complaining, the parents would encourage the teacher to set him right.

Also Read: [email protected]: A celebration of children's right to go to school
Even the teacher's job was restricted to shaping up their pupils. They would regularly come to school on time. Unlike the teachers of today, absenteeism among those teachers was not a common practice. They were not expected to fulfil scores of other responsibilities assigned by the government that have nothing to do with academics.
Nowadays, the government itself does not let teachers perform their primary duty. Why would it encourage the students to take up examinations in such a situation? This is the reason it does not want the students to fail.
A student can neither understand the duty of studying hard nor grow physically strong unless he or she carries the burden of a school bag. Why would a teacher take his job seriously if he or she is threatened with punitive action every time he or she chides a pupil?
Learn to carry the weight of the school bags
The foundation of the future would remain weak until the teachers are given freedom. We can imagine how fickle a structure based on such a foundation would be.
Our children would struggle in competing against their counterparts from the USA or Britain. We might witness them resorting to violence or suicide like the students of the West.
Our leaders should mend their ways before the roots of our education system completely rot. They must ponder - should every person who files nomination papers be allowed to sit in Assemblies or Parliament? Every politician has to face the test of elections. Only then can a democracy work.
Likewise, our students and education system would only be strengthened, if children learn to carry the weight of school bags. They must learn to bear the punishments given in the classrooms and bear the pressure of examinations.
Also Read: In Delhi's govt schools, kids soak in summer camps, thanks to AAP