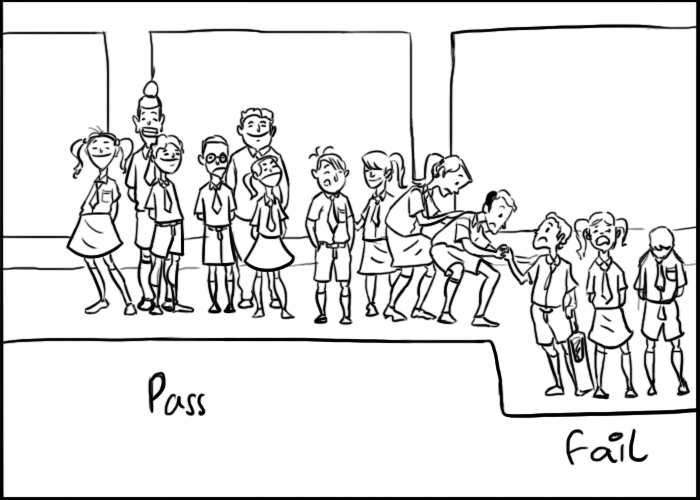 Right to pass / fail
RTE prescribes no-detention
States like Rajasthan think that\'s a bad idea
More in the story
Why pass-fail is not the best way to teach
How can we improve our pedagogy
Friday, 1 April, marks six years of the Right to Education Act (RTE). For the first time it now faces some first public opposition due to the 'no detention' policy: Section 16 of the Act prohibits schools from failing and expelling students up to Class VIII, irrespective of their performance in their examinations.
Rajasthan is the first Indian state to move an amendment to dilute this section for "improving the quality of education." Last September, the state Assembly passed a Bill diluting the section by adding the proviso: "provided that if a child has not achieved class-appropriate learning level in a class, he may be held back in that class."
"Rajasthan is the first state in the country to do so and this will improve quality of education," said Vasudev Devnani, minister of state for primary and secondary education.
Of 22 states, 18 agree that the no-detention policy needs to be abolished, Devnani, the chairman of the all-India no-detention committee nominated by the Ministry of Human Resource Development, told Catch:
"If examinations are not taken seriously up to eighth standard and if students are blindly promoted, they will fail in large numbers once they reach ninth. If their base is so weak then how will their education develop?"
According to him, detentions should be applicable from the fifth standard onward and that he wants to put in place annual evaluation systems: "There should be no drop outs between first and fourth standards. At fifth, there should be district-level examinations, where students who don't pass are given a second chance. If they fail a second time, they get detained."
News reports suggest that the ministry's objection to the amendment is on the ground that it goes against the spirit of the RTE Act - a central law that can't be changed by states at will. It needs the assent of the President. So, will Pranab Mukherjee approve the change? should he?
Devnani is unfazed: "Wait for the Budget session to be over. We are all in agreement and the RTE will surely be amended across India."
When we use fear as a motivator
"Students do well not out of fear of failure but because they are motivated," says Nitya Ram, programme head and educationist with New Delhi's Vasant Valley school's sister arm Learn Today.
With years of experience in designing pedagogy for CBSE schools, Ram says failing students would neither help them learn better, nor improve the quality of teaching.
"Policy makers don't understand. They think the only way to get a teacher to teach well or a student to learn is to put in an element of fear. We have to get over the fear-and-punishment mentality," Ram says.
"Why don't we focus on making an education system where a child enjoys studies so much that they pass on their own? Being called a failed student is a big psychological setback for a school child."
But if everybody gets to pass, isn't being an 8th pass then just notional? Won't students and teachers collectively abuse a system that passes even the most dud student? Also, what happens when a child moves from 8th to 9th where the no-fail policy expires? Reality eventually gets tested.
Let's get creative with teaching
Face these facts:
The proportion of children in Class V who can read a Class II-level text has declined by almost 15 percentage points since 2005.
The number of Class VIII students who can perform a simple division has declined by almost 23 percentage points.

In 2013, only two out of five children in third standard could read a paragraph from a first standard textbook.

Across 550 rural districts, although RTE improved enrolment in schools to 96%, it came at the expense of the quality of learning.
Source: The 2013 Annual Status of Education Report by Pratham Education Foundation
In a bid to hit upon the right solution, the Abdul Latif Jameel Poverty Action Lab (J-PAL) and Pratham did an experiment. The idea was to group children by reading and comprehension abilities or math or science fundamentals rather than age, and to make learning fun.
The premise was that grade-level teaching, based on a pupil's age alone, was leaving children behind. What if, we could instead group kids simply by concepts they were learning?
In eight randomised control trials in Bihar, UP and Haryana, the experiment found that when kids from third to fifth grades were divided based on their level of learning rather than age, their grasp over concepts improved tremendously.
Also there was no such thing as failing. A child simply didn't move from addition to subtraction to division in a set pattern but moved to the next only once a concept was mastered.
In Tamil Nadu, such a learning method has been around for 13 years. The Unicef supported activity-based learning (ABL) was first undertaken by the Chennai's civic body in 13 schools on a trial basis in 2003. It was then adopted by all 270 primary schools in the district.
According to the system, there is a learning ladder that every child is on. When a child goes off for 10 days to help his parents on a farm and gets back to school, he doesn't have to fall behind because he gets put back at the spot on his ladder where he left.
He picks up again from where he stopped. It also allows late joiners. So a 10 year old having never been to school can start from the basics. There is no question of failure.
The key feature of the ABL method is that it uses child-friendly educational aids to foster self-learning and allows a child to study according to his or her aptitude and skill.
The curriculum is divided into small units, each a group of self learning materials (SLM) comprising attractively designed study cards for English, Tamil, Maths, Science and Social Science. When a child finishes a group of cards, he completes one 'milestone'.
Activities in each milestone include games, rhymes, drawing, and songs to teach a letter or a word, form a sentence, do maths and science, or understand a concept. The child takes up an Exam Card only after completing all the milestones in a subject.
But what happens outside the purview of the RTE, in grade 9, when there is no more hand holding?
"By the time they will be on a par if you follow the system sincerely. The reason it works is because your foundations are strengthened. When you understand 100% before going to the next level, what you know, you really know," says Ram.
A massive component of making these systems effective are intense teacher trainings on the use of new methods that make learning fun. States such as Rajasthan still have a severe dearth of trained teachers. There are a total of 27,359 teacher vacancies across primary and secondary schools in the states. That's a third of all teaching positions.
Perhaps, instead of having the easy way out and arguing for the right to fail students, what Rajasthan should do is invest massively in increasing teacher numbers and ensure quality teaching before it can turn towards a systemic education overhaul.
Edited by Joyjeet Das